Visualization is a central theme in Ansel Adams' writings, where he defines it as "the ability to anticipate a finished image before making the exposure." The term previsualization, often mistakenly attributed to Adams was created by Minor White who divided visualization into previsualization, while studying the subject; and postvisualization, remembering the image at printing time.
Any photograph is all about light but infrared photography turns that concept on it's head because it's about capturing images using invisible light, which is why comparisons to traditional photography can be difficult. Few things beat a beautiful sunrise 's photographed in vibrant colors but that same scene photographed in infrared might be disappointing unless there is some great IR reflective subject matter—to add interest. That's because the Wood Effect—bright to white reproduction of deciduous plants in black-and-white IR images—appears strongest at lower sun levels. This effect is not the named for the material wood but after infrared photography pioneer Robert W. Wood (1868-1955.)
Here's one of Farace's laws about infrared photography: If the lighting looks great for standard photographs, it's probably not going to work that well for infrared photography. But don't just take my word for it; you need to experiment because you never know for sure what the results will be when working in infrared until you try. Shooting an approaching storm often makes a great "standard" photograph but I had a feeling that it could make a dramatic digital infrared image as well. The trees should retain some IR reflectance via heat and the storm clouds should add impact, right? Sometimes when you experiment you get lucky.
There are no 'official' subjects for digital IR photography. Sure, summer landscapes with leafy deciduous trees, lots of grass, and puffy clouds often make a great infrared picture. Evergreens, like those Ponderosa Pines up here on Daisy Hill, don't reflect as much infrared but depending on the invisible light will reflect some IR light. But don't confine yourself to landscapes.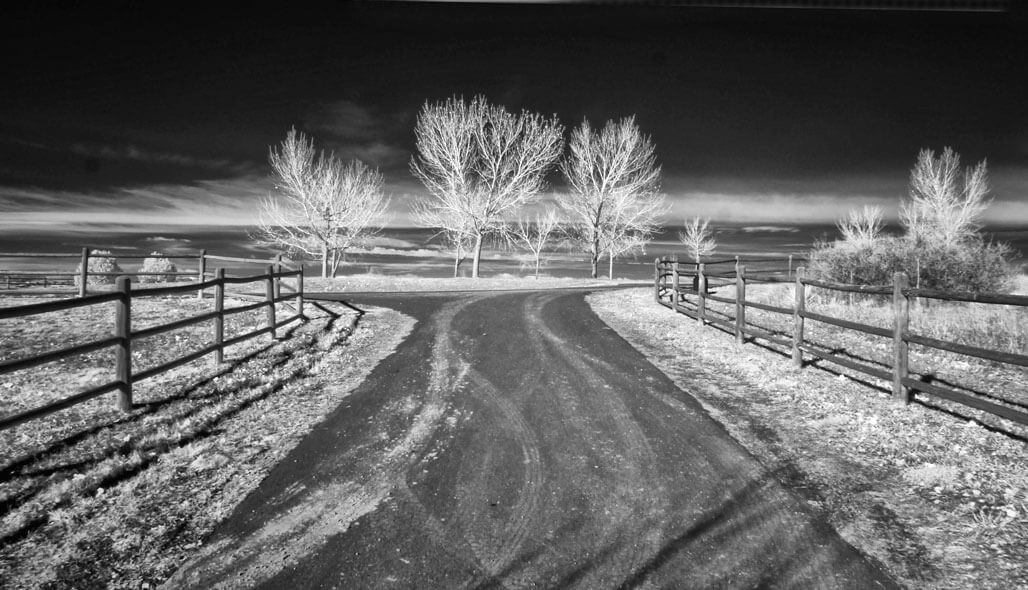 Some of the artists profiled in my book, " The Complete Guide to Digital Infrared Photography ," like to photograph people in IR and I tried it myself with one of the results appearing the the book's back cover. Any subject is fair game if you want to produce digital infrared images. Experiment to discover what works. You may be surprised at the variety of subject matter you can find for your IR photographs.
Tip: Try infrared by having an old camera that's gathering dust converted to IR-only operation. You can save a few some processing time when converting your camera to infrared, by using the coupon code "farace" at LifePixel. Joe is the author of the out-of-print four-star "The Complete Guide to Digital Infrared Photography" that's available used from Amazon.com.