"Money makes the world go around

The world go around

The world go around" … Author Unknown
Today's Post by Mildred Alpern
Consumer culture depends on consumption and I've played my part. In 2012, based on glowing reviews and opting for better equipment, I purchased the newly released Olympus E-M5 with its zoom kit lens as well as a wide-angle prime lens. I had been using point-and-shoot cameras for several years, so the E-M5 with its interchangeable lenses was a dramatic change and came with a new learning curve.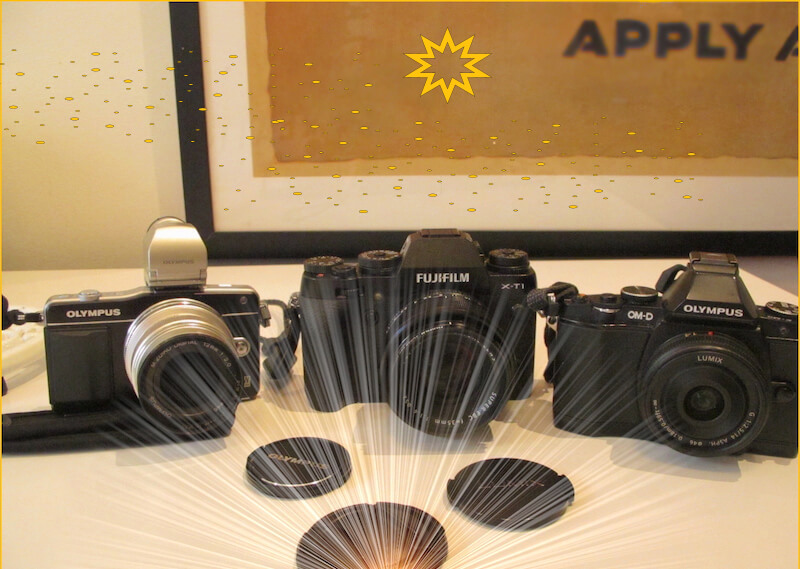 Over time, I have invested in top quality prime, zoom, and pro Olympus and Panasonic Micro Four-third lenses and even impulsively bought the quirky low-cost Jackar 34mm F1.8 (now available on eBay.) I use them selectively on my near daily shoots, taking one or two lenses with me on walkabouts. The idea with mirrorless is to travel light.
Surprise! A close relative in keeping with her preferences exchanged her Fujifilm X-T1 with a zoom lens for my point-and-shoot and I added the Fuji 35mm prime to lighten the carry load. Earlier I had bought a converted infrared Olympus Pen E-PM2 with an electronic viewfinder for shooting with my Olympus lenses. Three cameras, all challenging, and many lenses in lid-covered boxes sit on a designated shelf in my computer room.
When is enough gear enough? New products constantly flood the market. Pre-announcements bubble excitement. Reviews cite improvements, better features and slicker designs. Trade shows and social media whet the appetite. Curious yes; but tempted, no. My equipment is in fine working order, and although it might be fun to try some new upgrade or a new lens, I prefer to spend time shooting and processing using my current gear rather than shopping. Plus, when you get new gear, you need to make room for more stuff.
Lastly, my cameras have many features that can be inspiringly used (HDR, double exposure, panoramas). And the Mirrorless Photo Tips blog makes useful suggestions (lighting modes, favorite f/stop, exposures, new themes). At this stage, practice and reading contribute to expanding my skills. So I am all set, until there is a breakdown. Then I will reconsider and most likely do some shopping.
Note: If you get a chance, please read Mark's take on this subject— Confessions of a Camera Snob