Posted on May 6, 2015 in
Uncategorized
Today's post by Mark Toal
Between traveling for work and having a cold I haven't had much time to fly my DJI Quadcopter lately. I wrote a blog post about the new quadcopters I saw last week at the National Association of Broadcasters show and it made me want to fly again.
I've decided to concentrate on taking still photos from the air. I haven't mastered flying close to anything so my videos like aerial selfies of me in a city park. My first attempts at attaching a larger Micro Four-thirds cameras to the quadcopter were only partially successful due to my lack of flying skills.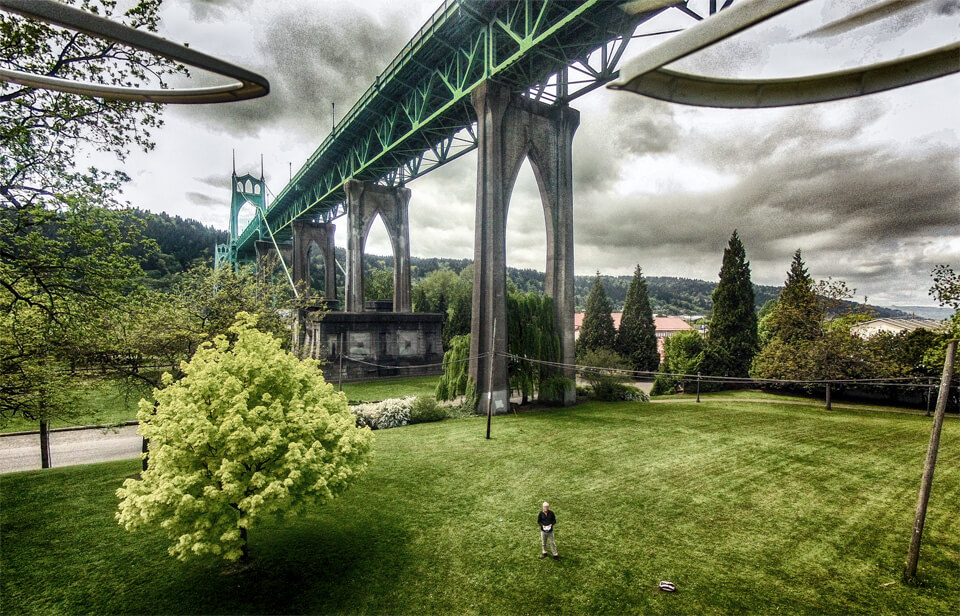 I recently bought a Go Pro Hero 2 for making pictures while flying my quadcopter. The above photo was made with the Go Pro attached to the DJI FC40. I set the camera to take an 11MP still image every two seconds in time lapse mode. While flying I would point the camera in different direction and just let it shoot.
The Go Pro is the best camera that I've used so far in the DJI since it has very little affect on the flight control of the quadcopter. The heavier cameras that I've tried cause the quadcopter to be unbalanced and difficult to handle. I haven't given up on flying with a mirrorless camera but it's going to have to wait until my flying skills improve.