Posted on Apr 21, 2015 in
Panasonic
Today's Post by Mark Toal
No one should have to go to Las Vegas three times in four months, but if you have to the National Association of Broadcasters (NAB) trade show is a pretty good reason. This show is almost 100% about video with everything from quadcopters to remote broadcast trucks for TV stations and satellite uplink.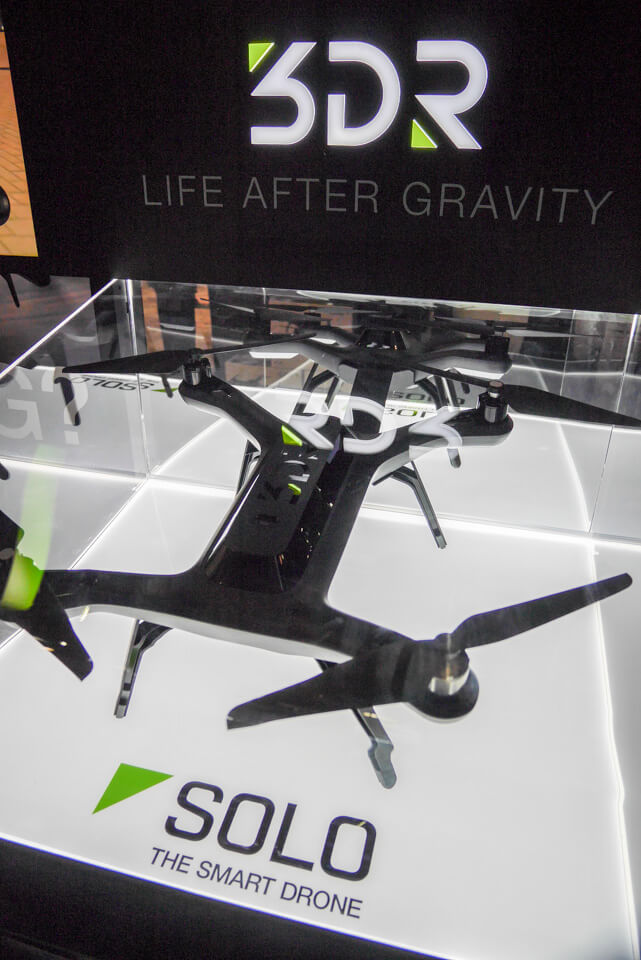 My main interest at the show was seeing what was new in quadcopters and drones. The show promoted a Drone Pavilion that turned out to be disappointing after a long walk to the back of the South Hall of the convention center. The main players in the drone business were in the Main Hall with large and expensive booths. DJI and 3D Robotics drew the most attention and both showed new models.
I've been a DJI owner for a while and love it, but the new 3D Robotics SOLO is beautiful and has amazing programmable controls to control your flights. Check out both of their web sites for sample videos and more details.
Cameras for Quadcopters are another growing area and the Black Magic Micro Cinema camera was the most talked about one at the NAB show. As you can see in the photo the camera is small with the Panasonic 14mm lens mounted on it. The camera costs less than $1000 and is designed for remote control, has a large sensor, accepts Micro Four-thirds lenses and 13 stops of (promised) dynamic range.
There are a lot of new companies entering the quadcopter and drone business. Stay tuned for more blog posts from me (Joe hasn't gotten his wings yet) about this growing area of photography.