Posted on Oct 6, 2015 in
camera bags
Today's Post by Joe Farace
In the May '15 issue of Shutterbug magazine, I wrote a Gear Guide column about camera bags. In it I mentioned 25 different makes of photography gear bags and since then I've found another half-dozen more.

As my mirrorless camera system has grown (see the Gear page,) my camera bag requirements have changed. For travel by plane or road trips by car where I need to bring along my 15-in Mac Book Pro laptop, Think Tank's Urban Approach 15 Mirrorless backpack is perfect. But for heading down to the McCabe Meadows or Castlewood Canyon State Park, I want something smaller—but not too small.

Think Tank's Mirrorless Movers bags are designed to fit today's mirrorless cameras and their new 25i fits bag is a little bit larger with room for a medium to large mirrorless body with three to four lenses, along with an eight-inch tablet plus accessories. For example, it holds a Sony A7 w/ 55mm f/1.8 ZA lens attached (with the hood reversed) plus a 24-70mm f/4 ZA (hood reversed.) 35mm f/2.8 ZA (hood in position), plus an iPad mini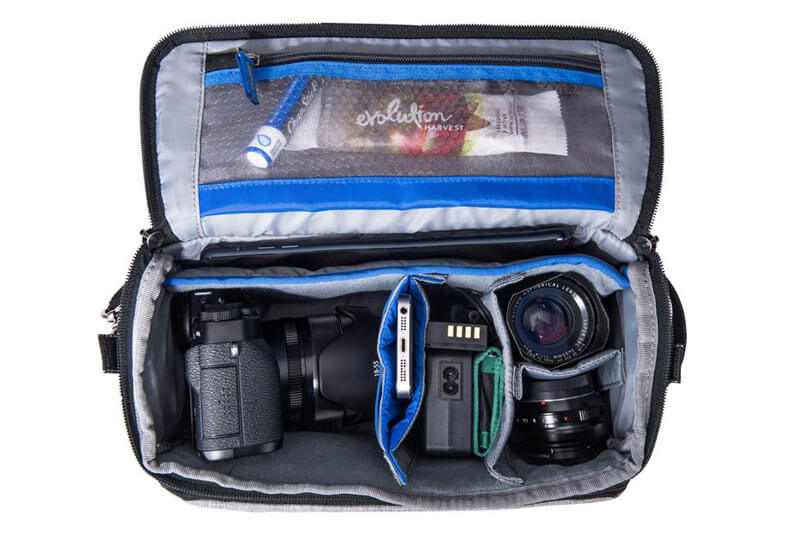 To keep it weather tight, the exterior fabric has a water repellent coating and the underside has a polyurethane coating. It has YKK RC zippers, 1680D ballistic polyester, 600D brushed polyester, nickel-plated metal hardware, and is stitched together using three-ply bonded nylon thread. Trivia: Denier aka D isa unit of weight by which the fineness of silk, rayon, or nylon yarn is measured and equal to the weight in grams of 9,000 meters (29527 ft) of the yarn.
Inside you'll find removable closed cell foam dividers, 200D polyester, polyurethane-backed nylex liner, 2x polyurethane coated nylon 210T seam-sealed rain cover, and 3-ply bonded nylon thread
This is a well crafted bag that at $64.75 represents a solid bargain.
Here are the specs:

Interior: 10.6 x 5.5 x 4.1-inches

Exterior: 11 x 6.1 x 4.7-inches

Smartphone Slot: 2.8 x 5 x 0.6-inches

Tablet Pocket: 9.4 x 5.5 x 0.8-inches

Weight (with accessories): 1.0 lb
Win a ThinkTank Mirrorless Mover 25i bag: The first person who uses the Contact page and sends me an e-mail telling me how long they've been reading the blog and (gives a good reason) why they think they should be the winner—is the winner! It's that simple. Entries close at Midnight MDT tonight.