Posted on Sep 3, 2015 in
camera bags
Today's Post by Joe Farace
If you follow my camera bags exploits here on Mirrorless Photo Tips, and my article in the May 2015 issue of Shutterbug, I've been using a combination of Think Thank Photo (Panasonic) and Billingham (Olympus) shoulder bags for my Micro Four-thirds cameras. (I also use a small Olympus-branded bag where I keep my E-P3, lens and a few bits.)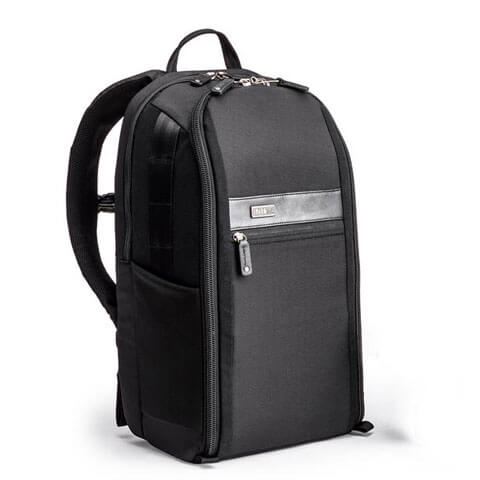 Recently I was offered a trip where I needed an airline sized bag—and they're getting much stricter lately— to hold both kinds of camera, some lenses along with my 15-inch Macbook Pro. The solution was Think Tank's ($169.75) Urban Approach 15 Mirrorless backpack.
This beautifully crafted low profile, high capacity backpack is specifically designed for mirrorless camera gear. The bags will hold 1–2 medium to large mirrorless bodies with lens attached and five to eight additional lenses. The interior features mesh organizer pockets providing quick access to filters, batteries, cards and the other flotsam and jetsam that we keep in camera bags. It has a dedicated zipper pocket that holds a full-size size tablet and a 15-inch laptop.
The Urban Approach 15 Mirrorless has a low-contrast and matte black appearance with full-grain leather accents. All exterior has a durable water repellent coating, and the underside of the fabric has a polyurethane coating.
For airport convenience, it has handle pass-through to carry backpack on top of rolling luggage. There's a "plush" front pocket for your smart phone or wallet and stretchable side pockets for water bottle, flash, or compact umbrella. (Don't leave home without one.) although I don't always use this feature I know some of you do—a tripod can be carried on the side of backpack. And like all think Tank bags a seam-sealed rain cover is included.
Based on my one trip so far, I found the bag to be an ideal compromise for the flying mirrorless photographer.