Posted on May 21, 2015 in
Uncategorized
Today's Post by Joe Farace
Mark makes a self portrait on his birthday and I usually have quiet party—Mary and I—at home but I wanted to share some thoughts with you today.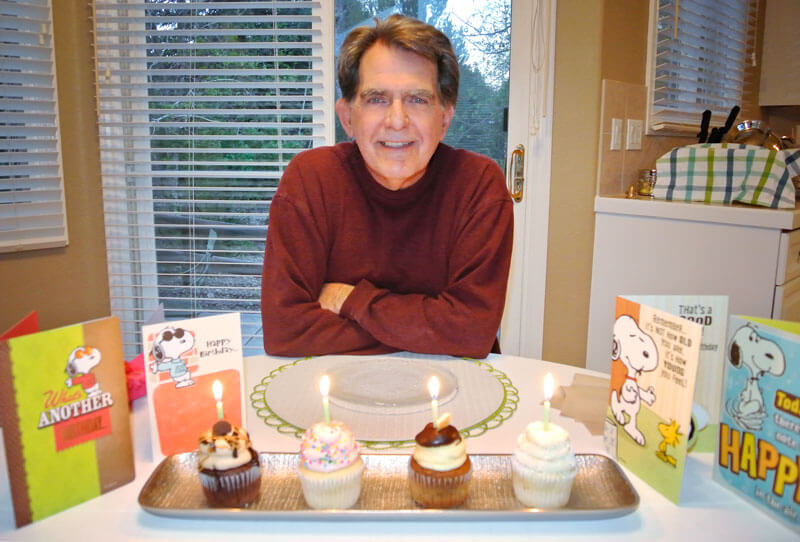 Today, as McCartney & Lennon sang, is my birthday. It's fitting that I was born in National Photo Month, although I don't think it was celebrated back then. The above photo was made on a past birthday morning and celebrated with an obvious Peanuts theme, hence the title of today's post. If you don't already know this about me, I'm a huge Peanuts fan and am a Snoopy collector—I have several rolls of Snoopy film that was sold in Japan in the '80s—and my most prized collected is a birthday card signed by Charles M. Schulz (that Mary coordinated with the help of the late Mr. Schulz's secretary.)
Now straddling geezerdom and the wisdom that comes with old age, I like share some of the photography tidbits and tips that have helped me over the past thirty plus years on this blog. By the way, that's me in 1955 (or thereabouts) on the right climbing the steps of the Washington Monument in DC with my camera bag stuffed with a Kodak Brownie Hawkeye (I still have it) slung over my shoulder.
I still feel like I am learning about photography, which is why I have embrace mirrorless photography—and try to learn one new thing and take one new picture a day. Learning something new every day is not as much of a challenge because the wonderful profession and avocation of photography is constantly changing with the introduction of new cameras, new lenses and new software that are designed (as I see it) to let us all have more fun with photography. And that's my birthday wish for you—Have Fun!