Today's Post by Mildred Alpern

Stripped of bright color

Luminous in monochrome

Milk glass butterfly
The Eastern yellow swallowtail is a stunner, an avaricious feeder on the butterfly bush (Buddleia) and languorous at rest. In proximity, the complementary purple and yellow shades are high contrast. So why tamper with an image of color opposites perfection?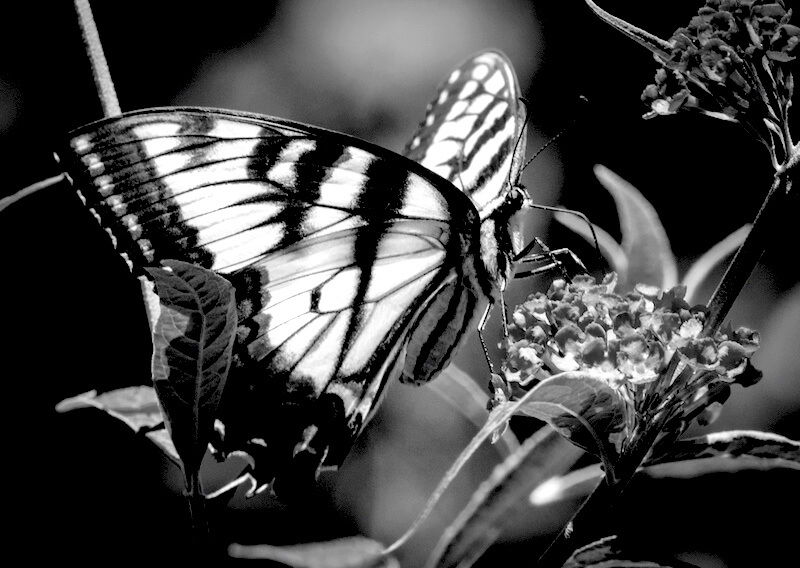 In truth, the striking ebony bands and veins on the wings appear to border and trace translucent white stained glass when processed in black and white. Like soldered grooved bars of lead, these markings hold together "vintage milk glass" in an artful design of elegance. So it is interesting to compare the two appearances and perceive their visual effects.
I processed the color image in Adobe Lightroom and both monochrome images in Photoshop with a Black and White image-adjustment conversion, tweaking the image with exposure, burning and dodging. The butterflies were shot with the Olympus E-M5 and the Olympus 40-150mm Pro f/2.8 lens; the single at 150 mm with an exposure of 1/400 sec at f/7.1 and ISO 500.; and the two butterflies at 150mm with an exposure of 1/1250 sec at f/4.0 and an ISO 500.