Today's Post by Mark Toal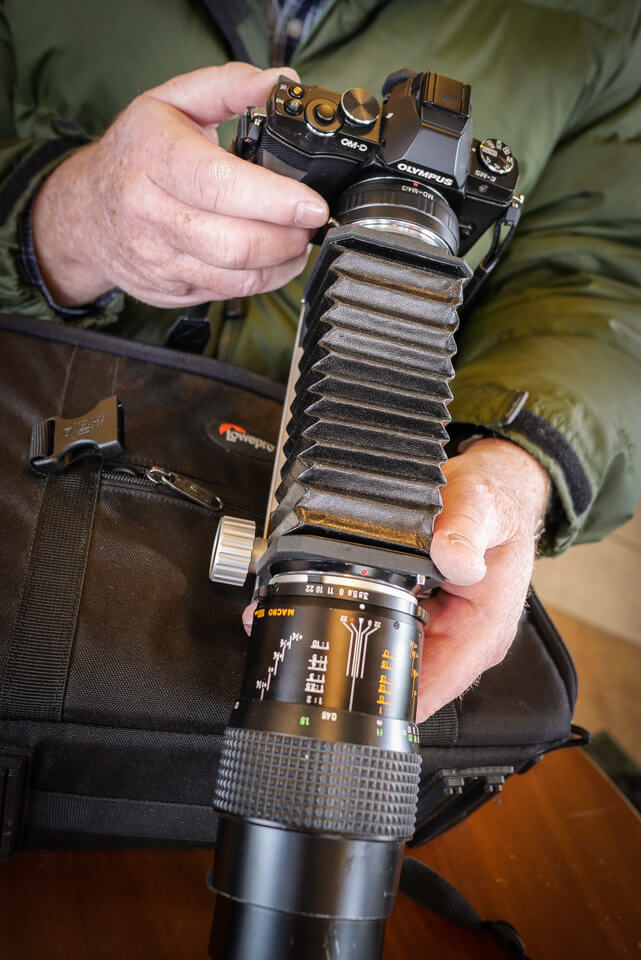 Last week I had coffee with my friends Tracy and Jan. Tracy is a lens expert and loves adapting old film-based lenses to his mirrorless cameras, while Jan loves to shoot with Micro Four-thirds cameras. Tracy made a portrait lens from an old movie projector lens that I've written about before. I bought a Rokinon 7.5mm fisheye lens for Micro Four-thirds from them.
This time he brought along four new lenses, a unique Nikon rangefinder lens that was adapted to use the Nikon F mount then attached to a Nikon to MFT adapter. The second lens was a 1970's Minolta 58mm f/1.2 lens. This is one of the first lenses that I sold when I worked in a department store many years ago.
The third was the most interesting to me; an old Minolta Macro 100mm macro lens attached to Minolta bellows then to a Minolta to MFT adapter, an amazing Macro lens. Last but not least is an old Nikon tilt-shift lens.
Look on eBay or Craigslist for any beautiful old lens and then a matching Micro Four-thirds adapter (there are available for many different lens mounts) and have some creative fun.