Today's Post by Jamie Zartman
The more I get into photography, the more I appreciate the way that black & white reveals more about the essence of what the photographer was thinking about (thanks Silver Efex Pro.) I recently took these photos above the railroad tracks that run through town and later during a bicycling event on Main St.
While my iPhone always provides a camera when no other is available, my Panasonic LX100 provides a better alternative, and I always try to have it with me as well. I was headed downtown one morning and saw a line of about thirty railroad engines standing on the tracks, so I pulled over on a side street and climbed a pedestrian bridge that crossed over the trains. The bridge was completely enclosed by protective steel mesh, so I had to lie down on the walkway and shoot through the gaps in the mesh to find those train lines leading east. As I was leaving, a bicyclist rode past me and I turned around taking a quick photo as he disappeared into the morning shadows. Both photos were taken at ISO 200 and an aperture equivalent to 22mm on a full-frame camera.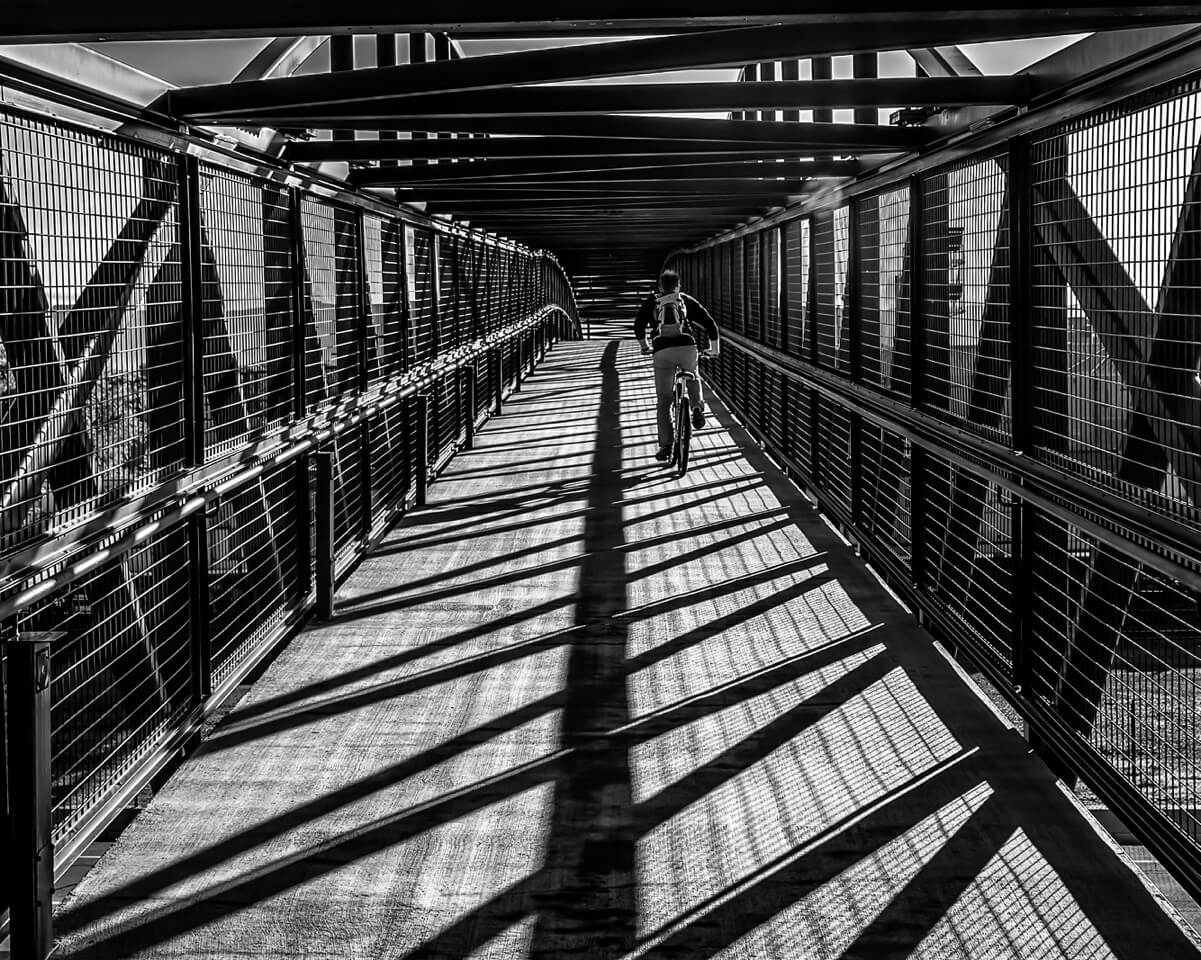 Once downtown, for a mountain bike criterium, the opportunities for street photography were plentiful. The LX100 is a great choice on the street and delivered some photos of what I thought were interesting people and a little humor. I am beginning to enjoy the never-to-be-repeated serendipity of street photography. In addition to my LX100, I also had my recently acquired an Olympus EM-5 II with the 40-150mm f/2.8 and five axis stabilization (makes hand holding a long lens a joy ) with me for the mountain bike races, and while I don't recommend using a conspicuous big lens for street photos, I did manage to capture a photo of the young man glancing over as a bicyclist was about to pass by after a crop of the photo, as well as a photo of the bikes sweeping through a corner.
I continue to be impressed by the quality, selection of lenses, excellent video abilities, and relatively lower costs of Micro Four-thirds cameras and I expect the fan base for Panasonic and Olympus cameras to continue growing. (Mark & Joe agree, Jamie)