Today's Post by Mildred Alpern
"Let's all sing like the birdies sing

Tweet, tweet, tweet, tweet, tweet…" Robert Hargreaves, Stanley J. Damerell and Tolchard Evans
If not in the mood to sing, how about capturing the poses and antics of songbirds with a long lens? A discreet spot near a bird feeder, by an open window perhaps, helps to get those split second movements that birds exhibit. Handsome birds, bluejays and cardinals, crazy about mixed seeds, swoop and dive between feeders and leafy trees. While I like artful stills with the "you-looking-at-me?" expression, it's a bit of action that I hope for —diving, flapping a wing, doing a dance step, even squawking.
Trying to anticipate fluttery movements means waiting semi-concealed with a fast shutter speed while the warblers dine. Finding a tree or bush where birds have built nests can yield results. But the homes are well disguised and the birds' need for privacy requires respect.
Sometimes, however, you luck out with a well-timed shutter press and capture a frazzled cardinal in a leafy tree or a blue jay dancing, dive bombing, even telling someone off.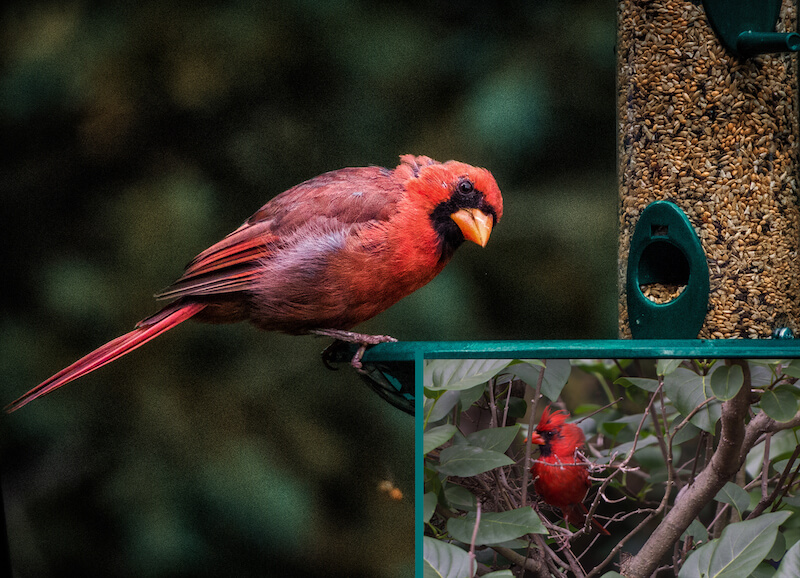 Then, gleeful with getting those quirky images, why not join in with gusto and "sing like the birdies sing." (Collages made in Photoshop._
All images were shot with the Olympus E-M5. In the blue jay collage, the squawker was photographed with an Olympus M. Zuiko 75-300 f/4-6.7 lens, at 300mm, an exposure of 1/125 sec at f/6.7 and ISO 400. Both dive bomber and dance step bluejays, with Olympus 40-150mm Pro f/2.8 and MC-14, at 210mm, an exposure of 1/250 sec at f/4 and ISO 1000.
In the cardinal collage, both images were photographed with the Olympus M. Zuiko 75-300 f/4.6-6.7 lens. The cardinal at the feeder, at 300mm, an exposure of 1/1250 sec at f/6.7, ISO 400 and -1/3 EV; the cardinal in the leafy bush, at 132mm, an exposure of 1/25 sec at f/6.3 and ISO 400, and behind a glass window.