Posted on Jul 21, 2015 in
Panasonic
Today's Post by Joe Farace
When it comes to landscape photography you've got options: There is color, monochrome, and then there's the kind of monochrome images that can only be captured by invisible light. Every color's wavelength is measured in nanometers (one billionth of a millimeter) and light with wavelengths from 700 and 900nm is considered infrared light. And surprisingly, to me anyway, this band of infrared light is a thousand times wider than that of visible light yet is totally invisible to our eyes.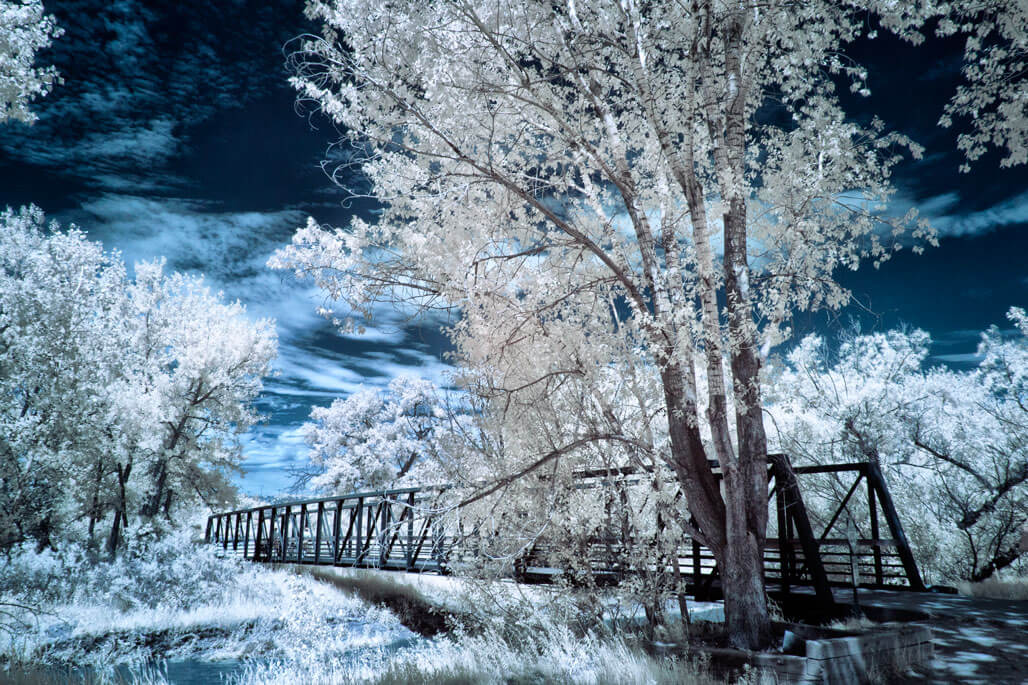 Capturing images using infrared light transforms mundane subject matter into dramatic photographs. Scenes that you might walk by and never think of photographing, take on a more dramatic look when seen via infrared light. Image above created with Panasonic Lumix G6 converted to IR capture by LifePixel and processed in Photoshop using the "Blue Sky Technique" shown in this tutorial.

One of the most important things about shooting IR images is to forget everything you know about lighting and the best time of day to capture images. To give foliage that famed infrared glow you need to shoot at a time of day when there's more sun on the scene. This puts your prime shooting times around mid-day! These are not the best of times to make conventional images but are the "golden hours" for infrared. One photographer told me that shooting IR makes it possible to make images during his lunch hour; something he could do before—and be happy with the result. With IR capture, he's a happy bunny. If you need a rule of thumb, try this one: the best time of day to shoot IR is when it's the worst time of day to shoot normal images.
You can always shoot using IR filters but if you decide to get serious about digital infrared photography you should consider having a camera converted to IR-only operation. Older mirrorless coming onto the used market—or maybe one of your's that's just sitting on a shelf—can be dedicated to infrared photography without breaking the ole piggy bank. Life Pixel is among several companies that convert mirrorless cameras for IR-only operation. Conversion prices vary depending on the model so check their website for details.
Tip: Try infrared by having an old camera that's gathering dust converted to IR-only operation. You can save a few dollars when converting your camera to infrared at LifePixel by using the coupon code "farace."