Today's Post by Joe Farace
If you read my First Look at Panasonic's Lumix GX8 you may be left with an impression that I don't like the camera. That's not entirely true: I may not like its size, weight and ergonomics but the GX8 is an awesome picture-taking machine and is technically brilliant. If you are not concerned by it's physical attributes you will probably love the GX8.
Over Labor Day weekend I got to thinking about putting some of the GX8's technical capabilities to work for infrared capture—hand held with filters. So I dug into my filter kit and mounted the (relatively) inexpensive Hoya 58mm R72 Infrared Filter, using a 58>52mm adapter to my Lumix G Vario 14-45mm f/3.5-5.6 lens, and headed to McCabe Meadows.
What I was attempting to leverage was the GX8's in-body image stabilization and high ISO capability—up to 25,600. According to Hoya, "This nearly opaque filter blocks all visible light up to 720nm, enabling recording of subject matter and scenes that are not visible under normal conditions." As I was to discover, the key works here are "nearly opaque."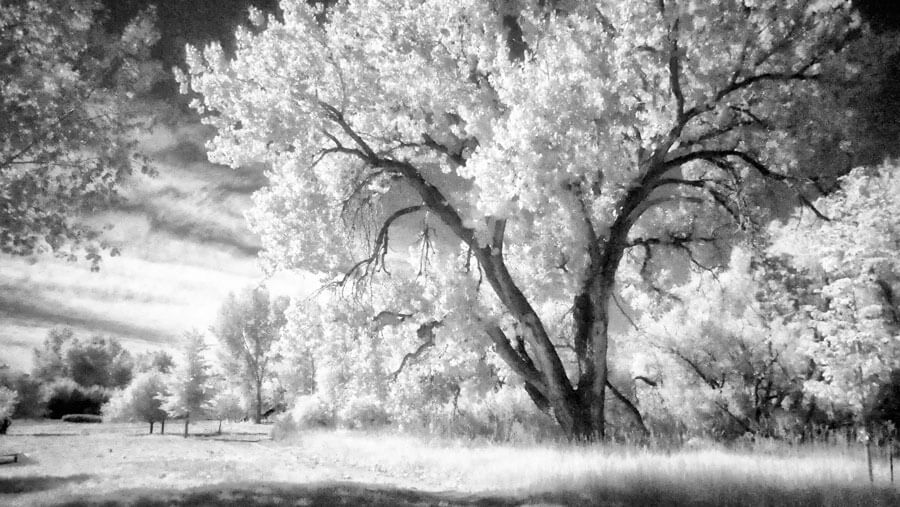 Unlike other cameras that I've used with this filter, the GX8 refused to focus through the filter until I cranked the ISO up to 25,600 and then the EVF experience changes from it's normally brilliantly realized almost optical viewfinder quality to what I might call "early 1950's TV snow." Nevertheless, clicking the shutter at speeds raging from one-half to one second—the image you see was shot at ½ sec at f/3.5 and ISO 25,600—produced a good-looking image in the viewfinder.
Two things worth mentioning: I was able to hand hold one-half second exposures because of the GX8's impressive in-body stabilization and some of the time (not always) was able to get reasonably sharp images. The Lumix G Vario 14-45mm f/3.5-5.6 lens is image stabilized but without applying the firmware update I mentioned in First Look I was able to achieve better results with the IS on the lens turned off. If I owned a GX8 I would update all my Lumix lenses right away.
At ISO 25,600, noise in predictably intense. You can see it in the space to the top left of the branches of the tree in the center of the image but I did two things to mitigate it. First I ran the Nik Define filter to remove noise and it did a pretty good job but next I hit it with the Glamour Glow filter from Color Efex Pro, reducing the glow layer to 50%.
It was fun shooting IR with filters handheld because sometimes I just don't feel like schlepping a tripod. But for the true handheld experience and handholdable shutter speeds an IR camera conversion, such as LifePixel offers, is a better choice for serious IR shooters.
My book, The Complete Guide to Digital Infrared Photography is currently out-of-print but used copies are available from Amazon for under $20. Creative Digital Monochrome Effects has a chapter on IR photography and is available from Amazon with new copies for less than tw0 bucks.