"I'm singin' in the rain

Just singin' in the rain"~ Arthur Freed, Nacho Herb Brown
Today's Post by Mildred Alpern

With weather sealed cameras and lenses, shooting in the rain is no problem. Rainy days vibrantly render colors and persons wielding umbrellas assume diverse shapes. So getting out in the mist and rain along with hurrying passersby is a must if you want to add something new to your photography. Some good spots for shooting include street corners, by buildings, and bus stops or subway stair entrances. But traipsing through streets is the serendipitous way to go.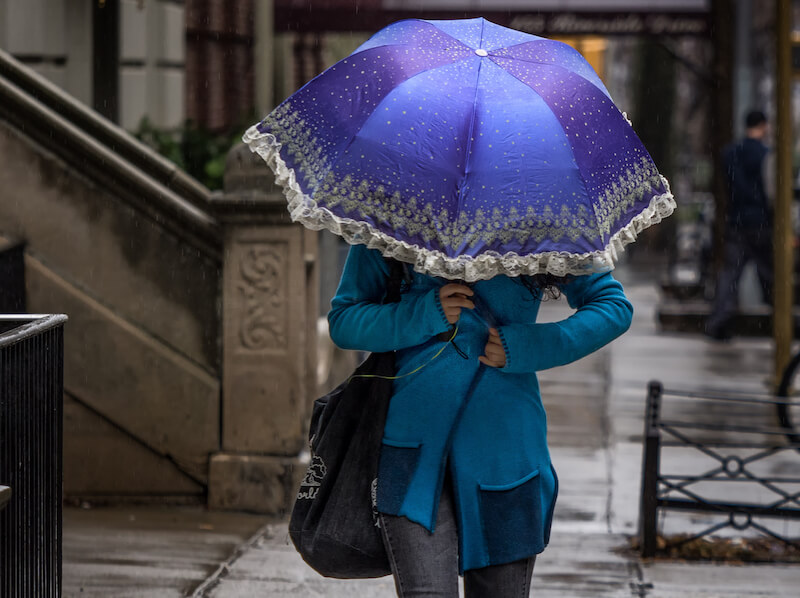 When you do, scenes emerge. Some travelers use both hands to secure wind-twisted umbrellas; others burrow under the bonnet shapes like turtles in their shells; and still others travel more inventively.
My favorite find happened on a rain-soaked windy day in June by Riverside Park in New York City. A bicyclist came whizzing by and a strong summer breeze insinuated under his lemon-colored slicker and lifted it skyward so that he appeared ready to fly off if he so wished.
As for getting wet myself, a hooded poncho provides enough protection to be let me be hands free to make these photographs.
Cameras and lenses used, all weather sealed.
Rain Bonnet was shot with the Olympus E-M5, the Olympus 40-150mm Pro f/2.8 lens at 110mm, with an exposure of 1/400 sec at f/3.2 and ISO 320; Whizzing Bicyclist with the Olympus 12-50mm f/3.5-6.3 lens at 50mm with an exposure of 1/25 sec at f/14 and ISO 400. The grasped umbrella was shot with Fujifilm X-T1 with the Fuji 35mm f/1.4R lens at 1/40 sec at f/6.4 and ISO 2500.