Today's Post by Joe Farace
In the past few years, the use of LED as a light source for portraits has increased years as more companies release products into this space. One of the most versatile and inexpensive ($249.95) systems that I've found is Rotolight's RL48 Interview Kit. Inside a nicely-made pouch there are two RL48-B battery-powered LED lights along with 24 filters: a 063 Pale Blue, 712 Bedford Blue, 020 Medium Amber, 182 Light Red, 765 Sunlight Yellow, 730 Liberty Green, 052 Light Lavender and 128 Bright Pink and two cosmetic filters (184 Cosmetic Peach and 791 Moroccan Frost) for skin enhancement.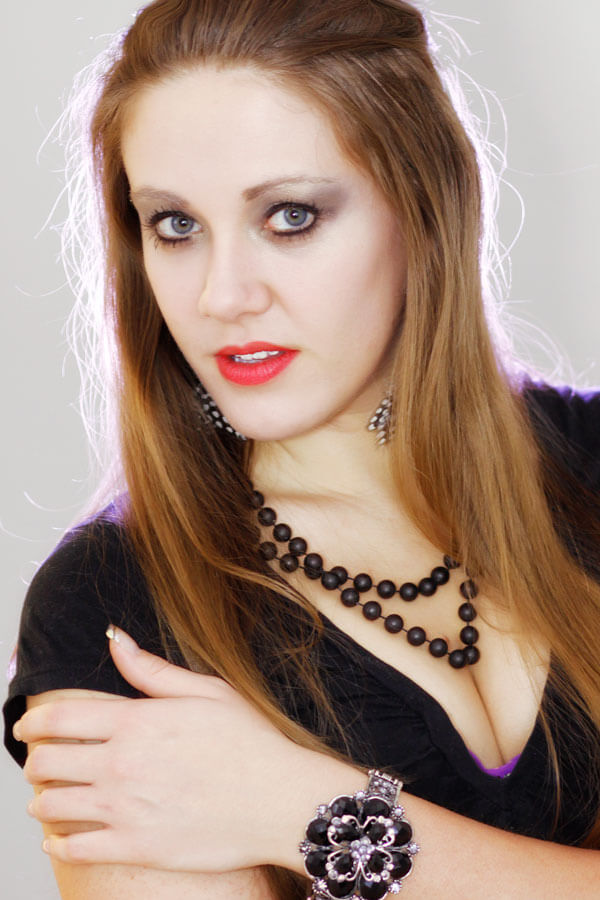 The kit includes two mounts with ¼-inch tripod threads allowing you attach a light to a tripod or lightstand. The pouch has room for filters, two lights and stands, plus a cell phone and six AA batteries; each light is powered by three AA batteries. Since each light only weighs six ounces (plus batteries) these lights make for a lightweight kit that's easy to take on the road.
Color balance is always a consideration with LED light sources and with the camera set for Daylight color balance the image appeared slightly warm. When switching to Auto White Balance, the Savage Fashion Gray background became perfectly neutral but skin tones were somewhat cool, leading me to prefer and use the Daylight color balance setting for the rest of the session.
After initial color balance tests, I added a second Rotolight, first with no filter and then with a purple one, behind Amber's head to backlight her. The Rotolight's small size makes it easy to place close to the subject and because there's no real heat output, she didn't even know it was there. Note that the background is well illuminated by the other RL48-B. Exposure was 1/10 sec at f/3.5 and ISO 640 in Aperture Priority mode.
Joe is the author of Posing for Portrait and Glamour Photography that's available at book or camera stores as well as Amazon. Signed copies are also available from me for $25 (including shipping) and include a 5×7 print of one of the images from the book. To order click CONTACT above.