From the best Mildred Alpern

O Tannenbaum, o Tannenbaum, ~ Ernst Anschütz, 1824
wie treu sind deine Blätter!
O Christmas tree, o Christmas tree
How loyal are your leaves!
Having been built around the turn of the 20th century, many buildings on New York City's West End Avenue have old world panache. There are newer buildings as well, equally stylish. At Christmas time, their lobbies are decorated with ornamented trees to celebrate the holidays. Festive and grand, they are welcoming sights. My building was constructed in 1915 and has a fourteen foot splendiferous tree standing before a curving staircase, and for fun I decided to view and to photograph other lobbies in the neighborhood.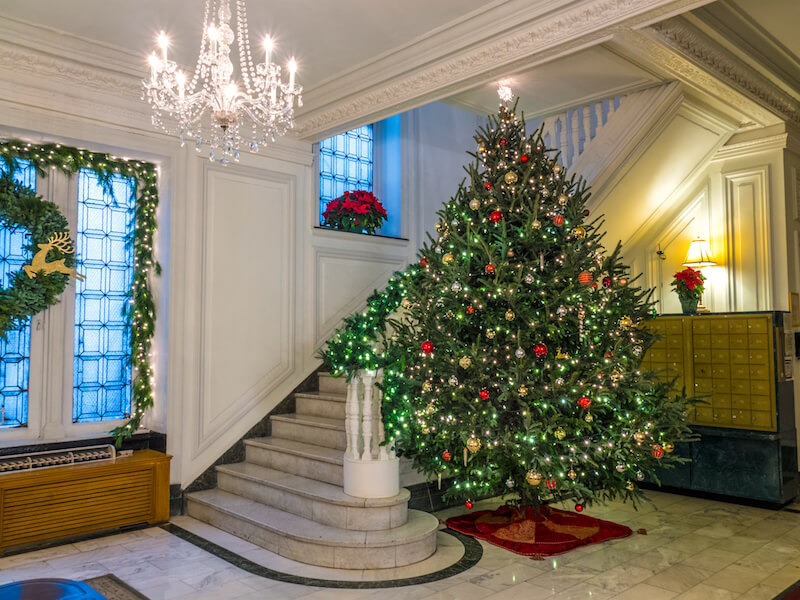 On a drizzly, cloudy morning, my visits introduced me to the sparkling lights and radiant gleams of lobby interiors spiffy with holiday visual delights. Most of the trees were artificial, but a few were fresh-cut, scenting the air with the woodsy outdoors. Candy canes and twirling ribbons added to the displays, and the building staffs deserve high compliments for their decorating talents that bring magical joy to the neighborhood children and grown-ups as well.
The wide angle Olympus M.Zuiko 7-14mm f/2.8 PRO lens was well suited for this project of photographing the interior settings. A series of my photos published in the West Side Rag , an online blog featuring news and events of the Upper West Side neighborhood show other lobby trees from my visit.

All images were shot with the Olympus E-M5 Mark II and the Olympus M.Zuiko 7-14mm f/2.8 PRO lens. The tree by the curving staircase at 14mm with an exposure of 0.4 sec at f/8 and ISO 400; the mirrored tree at 9mm with an exposure of 1/80 sec at f/3.5 and ISO 1250, -2/3 EV; and the tree by the framed wall pictures at 14mm with an exposure of 1/25 sec at f/4 and ISO 1250.
Mildred's book Haiku and Images is available on Amazon and is filled wit h beautifully reproduced color photographs along with original haiku underneath, embellishing the image and deepening its meaning. Pick up a copy to give as Holiday Gift for yourself or a friend.