Today's Post by Mildred Alpern
I wanted to shoot the setting sun, but instead I captured what appeared to be a lake nymph with a slender corona of red hair.
A lateness in the day when the sun would soon set encouraged me to drive to a favorite NY spot, Lake Sebago in Harriman State Park. The lake is wide, deep and surrounded by mountains. There is a dock where boaters slip their rowboats, canoes, and sculls (no motorboats are allowed) into the lake. But this evening I saw a different scene, somewhat apparitional. Two young women, like nereids having risen from Neptune's lair, wandered the dock, standing and sitting and dipping in toes.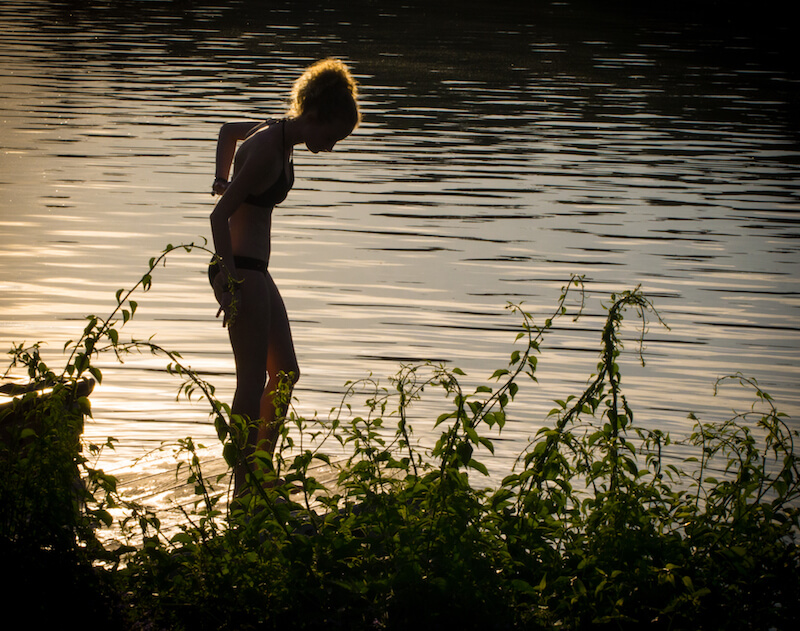 Here was clear evidence of summer's arrival. The sun behind the bathers offered opportunity for backlighting and their silhouettes stood out, illuminated by vivid color glow. The greenery framing the scene and the water-dappled dock added texture, both natural and man-made. But alas, what convinced me that they were not nymphs from the sea was an iPhone that one studied….unless Neptune is handing out waterproof ones. Hmmm.
For the above shots, I used the Olympus E-M5 and Olympus M. Zuiko 75-300 f/4-6.7 (150-600mm equivalent)lens. The single bather was photographed with a setting of 75mm, an exposure of 1/500 sec at f/22 and ISO 400; the two young women with a setting of 75mm, an exposure of 1/40 sec at f/22 and ISO 400. In both images, the camera was set to spot metering.