Posted on Dec 1, 2015 in
Featured
Today's Post by Joe Farace
Over the years, digital cameras have become more homogeneous with manufacturers slavishly copying each other's ideas. My rule for this award is that it's presented to a camera I actually used and shot under all kinds of conditions and not all camera companies are forthcoming with review models that will be given a no-holds barred test. But for those companies who do and who've taken the extra step of producing clever and exiting cameras, I want to present the "Ernie" award for digital innovation, which is named for the late Earnest E. Mau. He was a photographer, computer pioneer and friend who didn't live long enough to get his hands on a really good digital camera and it's awarded in his honor this year to the Leica D-LUX (Typ 109.)
The Leica D-LUX (Typ 109) has a 12.8MP 4/3-inch CMOS sensor with an optically stabilized DC Vario-Summilux 10.9-34mm f/1.7-2.8 (24-75 mm equivalent) lens and an ISO range from 100 to 25,600. The camera offers NTSC or PAL 4K video output at 30p or 24p, which can be saved as MP4 files. 1080p HD or standard definition video can be selected if lower video resolutions are needed.
It's no secret the Leica D-Lux is a fraternal twin to the Panasonic Lumix LX100 and for the (approx) $300 premium the delivers Leica-like cosmetics, a copy of Adobe Lightroom and a CF D flash. The LX100 also includes a flash. For available light portraits indoors or out, this little speedlight is surprisingly effective. It only has on/off controls but by controlling output with ISO settings and shutter speed it works great for fill-flash portraits.
The LX100 has a built-in rubberized grip but Leica sells ($160) a better handgrip and I would advise anyone buying the D-LUX to get one. It adds little weight but makes the camera slightly bigger. The camera's metal body weighs less than a half-ounce more than the LX100 and has well-placed buttons and dials. The analog controls include an AF/MF button and one for aspect ratio. There's an AF Macro setting that lets you get so close that the lens is almost touching the subject.

Images and videos can be played back on the camera's large, sharp 3.0-inch LCD display or the camera's bright and crisp electronic viewfinder. Exposure options include Program, Aperture-Priority, Shutter-Priority, manual, as well as 22 creative modes. Manual exposure is set via an aperture ring on the lens and a shutter speed dial. Stills and video are saved to SD cards, including SDXC. Leica provides sharing options with Integrated Near Field Communication (NFC) and Wi-Fi that works with the free Leica Image Shuttle app to capture pictures even while shooting video.

Budget minded shooters might prefer the more affordable Lumix LX100 but if you don't have a copy of Adobe Lightroom, the price gap narrows and the Leica's resale value will be higher if you decide to sell/upgrade in the future. My overall impression of the D-LUX is that it feels much like a "real" Leica and acts like one too, which is why it's my Camera of the Year.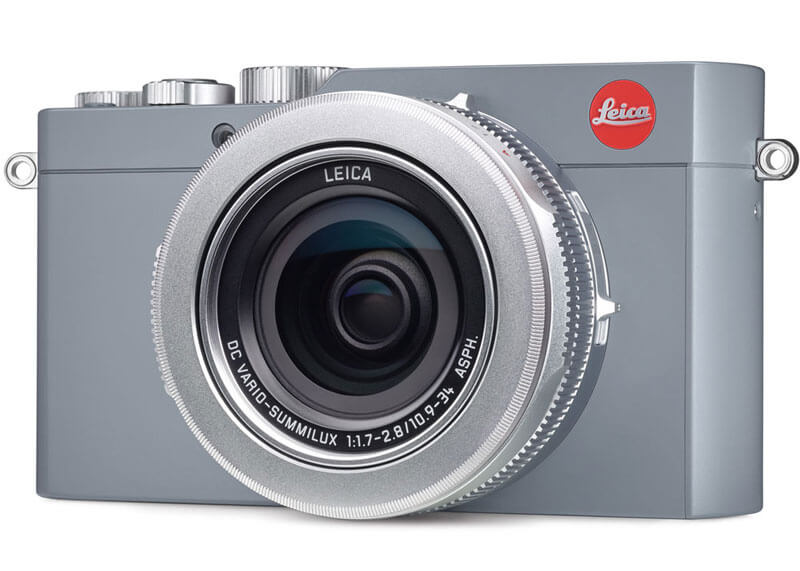 Heck you can even get a limited edition D-Lux (Typ 109) Solid Gray, a two-toned model featuring a gray enameled body with silver lens and control dials, giving the camera "a sleek and modern look." Leica says it will serve as "an elegant and sophisticated accessory" and while that's a lots of marketing BS this is a cool looking camera for just fifty bucks more that the standard finish. I've placed an order with Ms. Claus for Christmas and hope I've been more that nice than naughty.