Posted on Jan 7, 2014 in
Sigma
Welcome to Studio Tuesdays on Mirrorless Photo Tips. We all know that mirrorless cameras can be used in many different photographic situations and on Tuesdays we'll give you a look at using these versatile cameras in a studio situation along with the different lighting tools and lenses that you can use.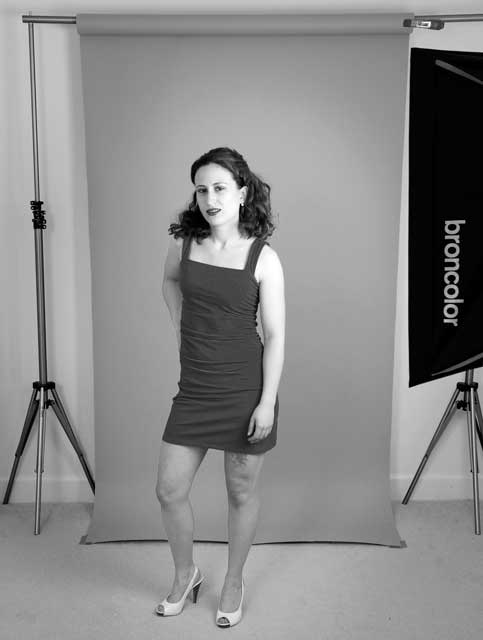 There is something quietly satisfying about working with finely crafted tools. It's a feeling I remember having back in the film days and one I had again while shooting with Broncolor's Move 1200 L Kit 2 . It made creating all of the images that you see here easier and fun to shoot and it's in this spirit of play where creativity lives, inspiring a photographer to try new ways to use these kinds of tools to make better photographs. That includes using Mirrorless cameras in the studio. Broncolor's Move kit is that kind of lighting system. One of the joys of using mirrorless cameras, like the Panasonic Lumix I used to make this photograph.
Hasselblad Bron offers three versions of the Move 1200 L kit: The Move Outdoor Kit 1 ($6525) includes the Move 1200 L power pack, MobiLED lamphead, MobiLED continuous light adapter, 28 x 28-inch Flex softbox and RFS 2 wireless transmitter all of which fits into a backpack. The Move Outdoor Para Kit ($9545) is a single light kit that includes a backpack, power pack and one lamphead along with a 34-inch parabolic reflector with 24 ribs that's built like an umbrella and has a silver interior coating. The Move Outdoor Kit 2 ($7888) that I tested is a two-head kit that includes a 28 x 28-inch Flex softbox and a 32-inch umbrella. The kit also comes with a backpack that when packed weighs 38 pounds.
For this test shoot with Anastasia, I used the a reverse 3:1 lighting ratio placing one MobiLED head with 28×28-inch Flex softbox at camera right with a second head with a 32-inch silver umbrella installed in the left rear corner of my studio (outside the range of the set-up shot.) Background is Savage Ocean Blue seamless paper mounted on JTL background stand. Camera is a Panasonic Lumix G2 with the $199 Sigma 30mm f/2.8 DN lens. —Joe Farace