Today's Post by Joe Farace
You may be interested in trying boudoir or glamour photography but may think that it's difficult and requires lots of expensive equipment but the truth is that all you really need is a camera, some lights and a subject. I've alreday covered the subject of Where to Find Glamour Models (on our sister blog.)

Lighting for the intimate portrait below was provided by Godox monolights. Boudoir photography is all about mood and the Godox monolights are well suited for this genre. Even when shooting at half power produced f/8 at near instantaneous recycle times, which is useful for shooting when a subject's all-important expression may be fleeting.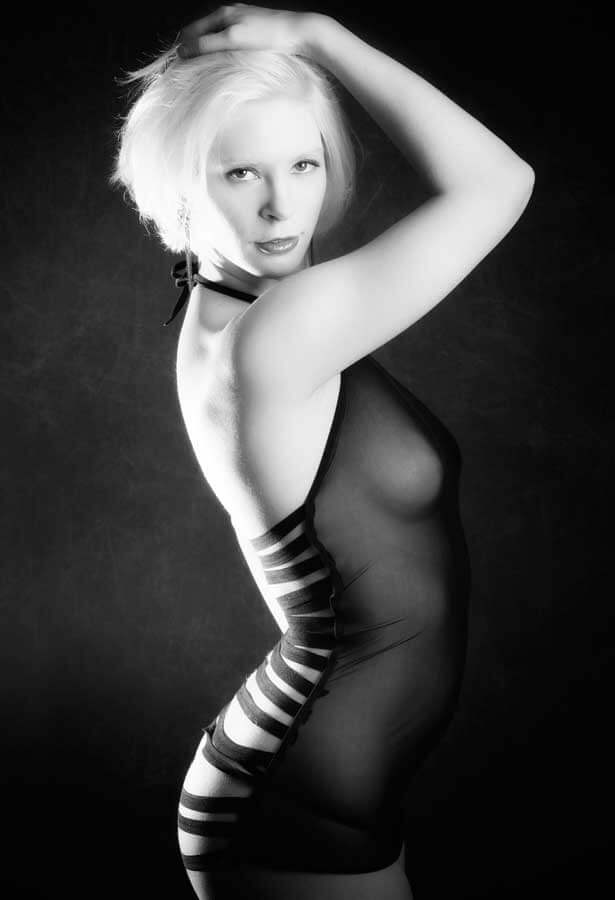 I've been using Micro Four-thirds cameras for studio portraiture since Mark Toal wrote about it on his post "Model Shoot in Micro Four-thirds." During a session the advantage of using a mirrorless camera with an electronic viewfinder are immediately apparent.
When you click the shutter, the image you just made is visible in the viewfinder. You don't have to remove the camera from your eye and "chimp." You see it right away, which means you see blinks right away and can make refinements in the pose, lightning and exposure faster—making the shoot go smoother.
When shooting boudoir or intimate portraits I prefer working in monochrome because it produces a quietly, pensive look. For the image at left, the main light is a Godox QT600 with a Westcott Apollo Strip softbox placed at camera right, while the side light is from a QS600 located at camera left. Backdrop is a two-sided Savage Monsoon collapsible background. Camera was a Panasonic Lumix GH4 with Leica DG Macro-Elmarit 45mm f/2.8 with an exposure of 1/125 sec and f/8 and ISO 200.
For more information on how I shoot glamour and boudoir images, please pick up a copy of my book "Joe Farace's Glamour Photography," it includes tips and tricks and techniques for shooting with inexpensiveness and simple equipment.