Today's Post by Mildred Alpern

Is the surreal real in landscape photography? Answer below.
Beyond the visible spectrum lies an unseen dreamlike world of enchantment where time seems to stand still. Vegetation is often white, people may look ghostly, and skies can have varying hues. Images may be processed in faux color, neutral tones, or black and white. In all cases, the landscapes exhibit an ethereal quality.
In spring through late summer under bright sunlight, armed with an infrared converted Olympus E-PM2 camera and interchangeable wide-angle prime lenses, I seek lush and abundant greenery, silken lakes, and people activity to produce images of otherworldliness. NYC parks such as Carl Schurz Park along the East River and Central Park are ideal for the variety of forest magic and beauty that photographs shot in infrared exhibit.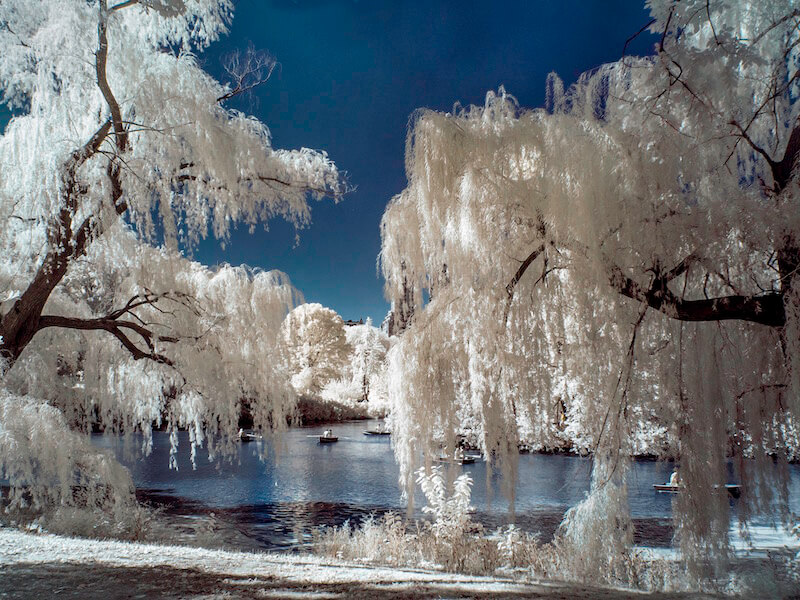 In preparation for shooting, I am scrupulous about setting custom white balance using the vivid greenery under bright sunlight, while totally filling the frame. Processing is where the fun begins and choices are made. The Carl Schurz Park scene with its pale color cast was processed in Lightroom, almost straight out of the camera, requiring minimal tweaking of exposure and levels. For the Central Park Rowing scene, colors were channel swapped in Photoshop and then adjusted with Hue and Saturation to achieve the willow trees' white leaves and the deep blue sky.
For the Carl Schurz Park shot, I used the Olympus E-PM2 and Olympus M. Zuiko 12mm lens, an exposure of 1/320 sec at 5.6, EV-1/3 and ISO 200. The Central Park Rowing image was photographed with a Lumix G 14mm f/2.5 ASPH II lens with an exposure of 1/400 sec at f/8 and ISO 400.
In conclusion, is the surreal real in landscape photography? Yes, for those who are romantically inclined.