Today's Post by Mark Toal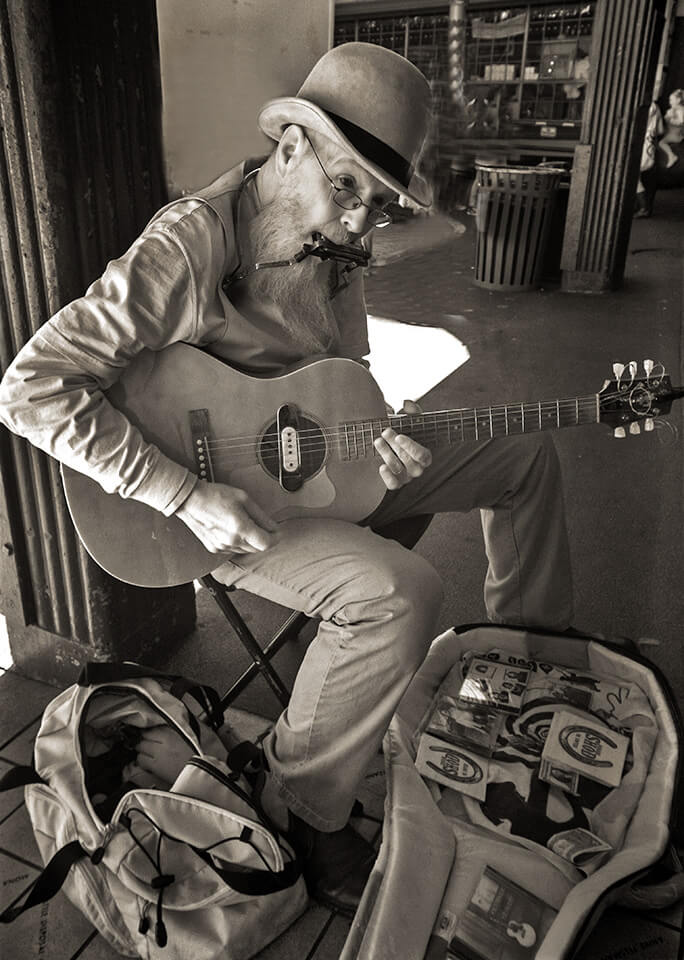 I am in love with my LifePixel infrared converted Panasonic GX7. It has re-kindled my interest in black and white photography. My resistance to having a camera converted to Infrared came from seeing too many photos of white trees against a dark sky. If you Google "Infrared photos" that's a lot of what will come up. Don't get me wrong I think those kind of shots are beautiful. It's just whenever I see that many of a type of image I don't want to be part of the crowd.
On a recent trip to Seattle I decided to try shooting infrared as I walked around downtown. There aren't a lot of trees in downtown Seattle so I knew it would be a challenge. It does help if you have blue skies since infrared will darken the blue as you can see in the image of the buildings. The image of the street singer surprised me that it worked as well as it did.
Since the Infrared files that come out of the camera usually have a magenta color tint to them I process them in either Silver Efex Pro or Tonality Pro to get the black and white look that I want. I then adjust the highlight and shadows in either Adobe Lightroom or Photoshop.
You can try infrared photography for yourself by having one of your old cameras that's sitting around gathering dust converted to IR-only operation. By using the coupon code "farace" at LifePixel, You can save some processing time when having your camera converted to infrared.