From the Best of Mark Toal
I was in Virginia City, Nevada last week to check out the steam train that runs between Virginia City and Gold Hill, Nevada. I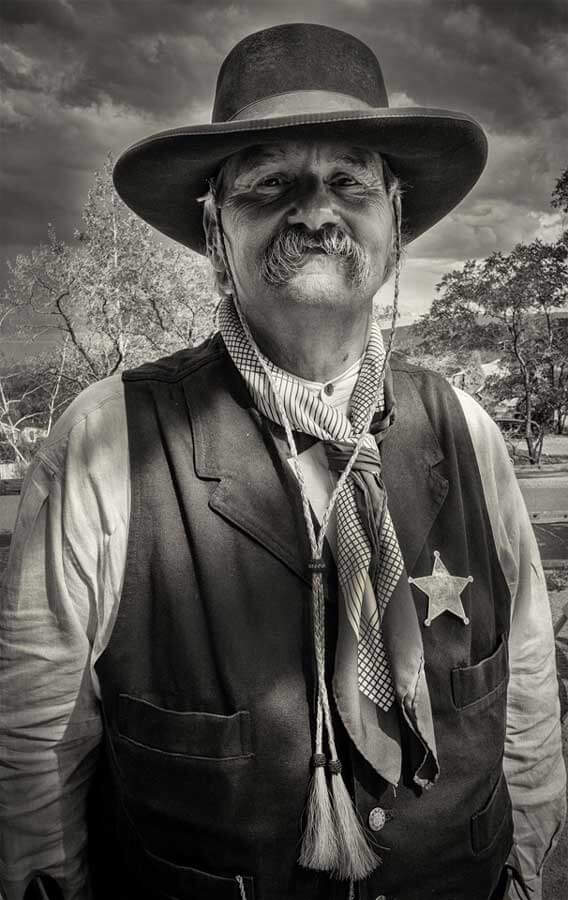 took the train ride and returned to set up a time lapse of the train pulling into the station and then leaving again. The time lapse photography of "Virginia City to Gold Hill Steam Train" above was shot with frames one second apart and rendered at six frames per second.
While I was shooting the time lapse an employee from the train dressed as an old west sheriff came over to tell me about other great locations to photograph the train. I had my Lumix GH3 set to black and white, with the Lumix G Vario 7-14mm f/4.0 ASPH lens. The 7-14 is not typically considered a portrait lens since it's so wide angle so I turned it to 14mm, set the camera to Program mode and "shot the sheriff."
In Adobe Lightroom I increased the contrast, reduced the highlights, lightened the shadows and made a dark vignette around the edges to draw the viewers eye to the center of the image. Then I opened the image in Photoshop and used the Burn tool to darken the shadows across his vest to give the photo a more dramatic look.