Posted on Apr 14, 2015 in
glamour photography
Today's Post by Joe Farace
Mary and I have fond memories of using early generation Bowens monolights; they were our first really good lighting system that we owned when we set up our studio in 1982. We loved shooting with those big, black paint can-shaped 800B monolights because they were inexpensive, dependable and powerful and from what I can tell from my experience with their two-light Gemini 400Rx kit that continues to be the case.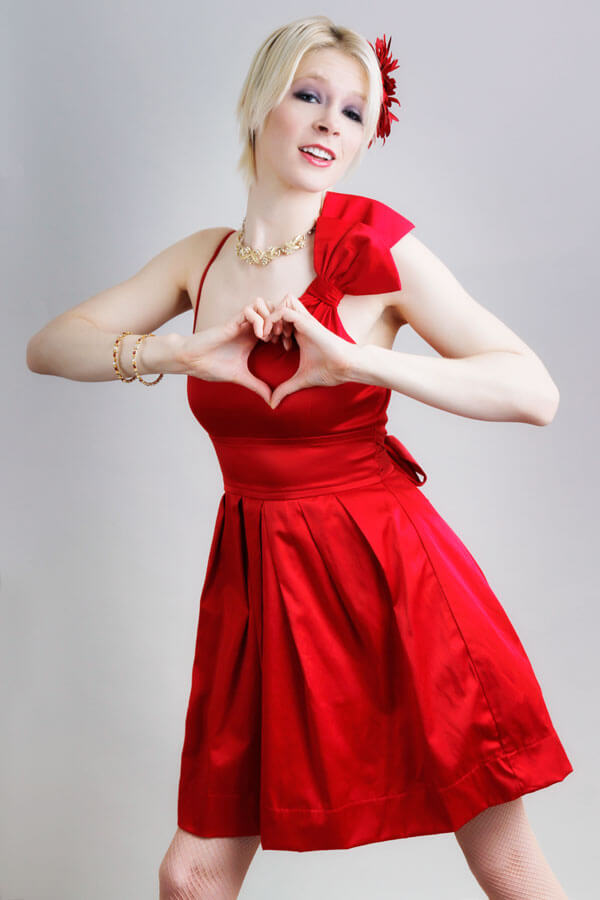 This simple lighting one-light set-up used an inexpensive 60-inch, 16-rib white parabolic umbrella mounted in shoot-through mode to a Gemini 400Rx as the main light and placed at camera right. A 32-inch 5-in-1 Collapsible Disc reflector is at camera left to serve as fill. The backdrop is Savage Grey Sky seamless paper that was mounted on a JTL background support system.
Pam Simpson looks great wearing red and when she's photographed against a rey seamless background she really pops out. The lighting couldn't be simpler:
Main light on right with 60-inch white parabolic umbrella with fill provided (at camera left) with a 32-inch circular 5-in-1 reflector. Exposure was 1/125 sec at f/8 and ISO 100.
J oe is the author of "Studio Lighting Anywhere" that's available in all the best book and camera stores as well as Amazon.com.