Posted on Aug 19, 2014 in
Panasonic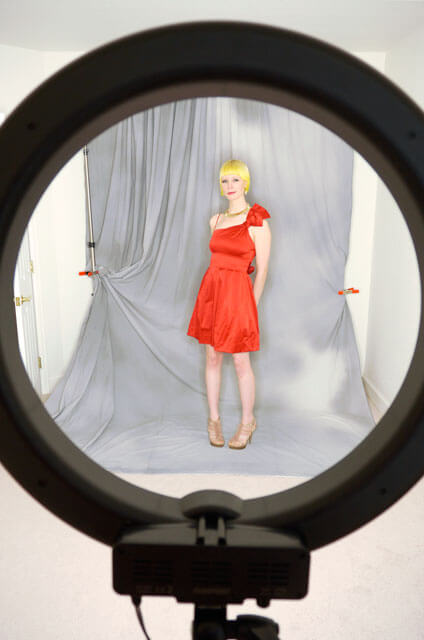 Flashpoint's 14-inch Fluorescent Dimmable Ring Light is the first continuous source ring light that I've tried and its attractive price ($100.95) makes it a good fit for a photography world that's embracing LED and fluorescent sources to produce a Brave New World of studio lighting. Why Fluorescent? A digital SLR's imaging chip is least sensitive in the blue channel where tungsten light has the least output. By contrast, fluorescent lighting closely matches an imaging chip's RGB spikes more than tungsten sources that produce 93% heat and 7% red light.
As with any continuous lighting source you can use your camera's built-in light meter to measure exposure when using Flashpoint's Ring Light. For most this image, I put the camera in Program mode, letting the camera determine aperture and shutter speeds while tweaking with the camera's exposure compensation control.
For this shot, I mounted the Flashpoint 14-inch Fluorescent Dimmable Ring Light on a 7.2-foot air-cushioned three-section lightstand. Cover Girl Pam Simpson (Shutterbug March, 2013) is posed in front of a grey muslin Belle Drape background suspended on a JTL background stand.

Shooting through the ring light in the traditional way created the flat lighting and classic shadow around the Pam Simpson's charming pose. Shot with a Panasonic Lumix GH3 mirrorless camera with 14-140mm f/4.0-5.8 Asph/Mega O.I.S. lens (at 32mm) and an exposure of 1/15 sec at f/5.6 and ISO 1000.