Today's Post by Mildred Alpern
On a side path, heading toward the Hudson River, I saw Riverside Park Conservancy workers clearing out debris and trimming shrubs. A John Deere utility vehicle was parked on the path. Impressive it stood, its cargo box loaded with cuttings and tools. Sauntering toward me were two young boys and I wanted the shot.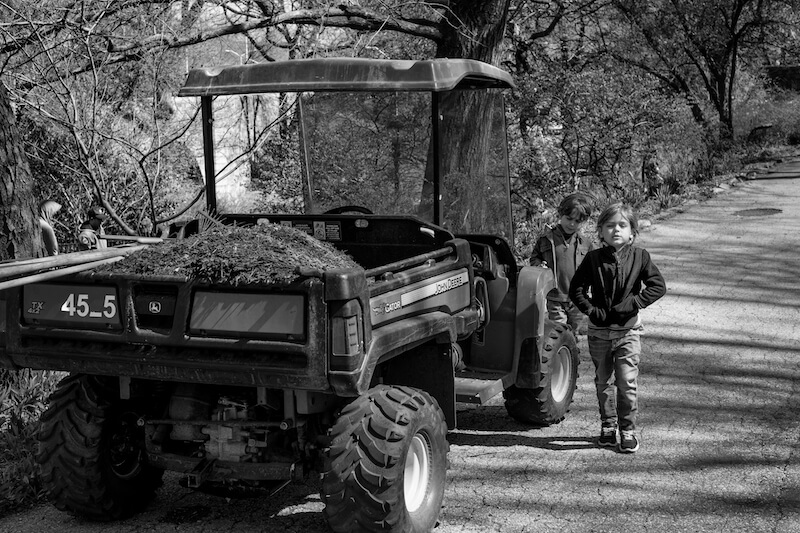 I photographed the scene with the Fujifilm X-T1, a 35mm lens and an exposure of 1/160 at f/5.6, -1/3EV. On the left amid tree branches are glimpses of two workers and on the right, the boys. One seems to be touching, perhaps caressing the front fender. The other, with hands in pocket, eyes semi-shut, steps forward with a bit of attitude. Were they imagining ownership? Will they talk about the vehicle, the size of its wheels, the fun to drive it?
The speculations make this a favorite photograph of mine, along with the size of the boys next to the vehicle, and my capturing the image in a momentary impulse.
Mildred Alpern was born in Boston, Massachusetts, is a graduate of Girls' Latin School, Boston University and Columbia University Teachers College. She is a former teacher of modern European History and consultant for the College Board's Advanced Placement Program. She currently shoots with Fuji XT1 and Olympus E-M5 mirrorless cameras.
What's your favorite photograph Click the Contact button above and tell us about it. Maybe next time it will be your turn to be featured on Mirrorless Photo Tips.