Posted on Oct 8, 2014 in
Panasonic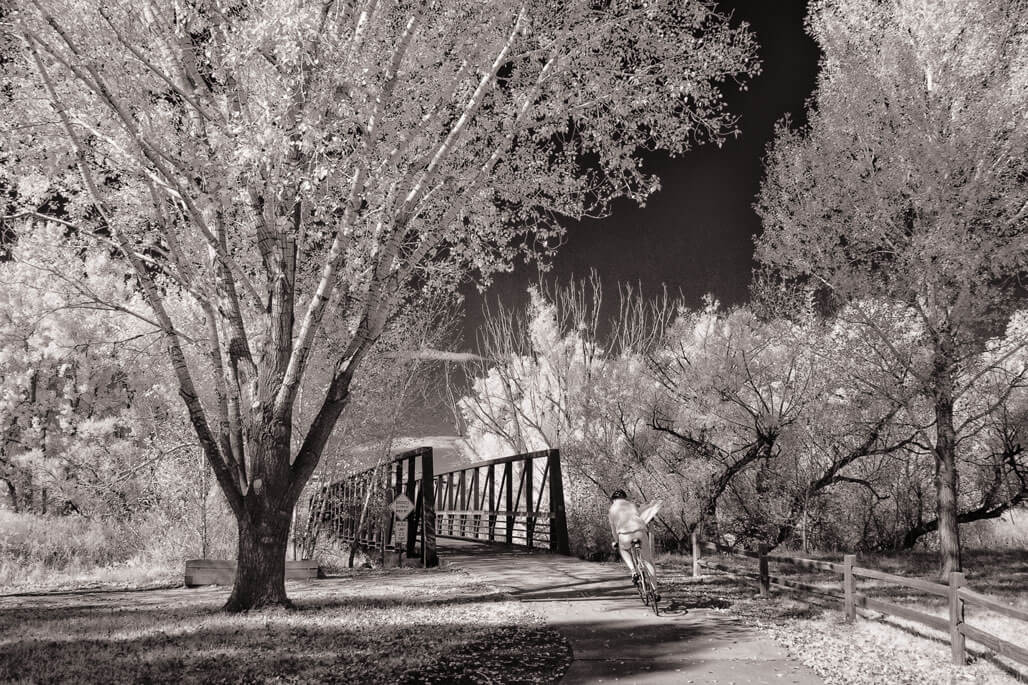 Right now, the leaves are changing color and falling off meaning that—what I like to call—Infrared Season is fast coming to a close. So I headed off to McCabe Meadows open space to shoot what I expect to be the last of the season's IR images. (Hey, I could be wrong.) The above image was shot with a Panasonic Lumix G5 that had been converted to IR-only capture by LifePixel. Lens was a Lumix 14-45mm f/3.5-5.6 ASPH/MEGA OIS (at 16mm) with an exposure of 1/400 sec at f/9 and ISO 400, to freeze the cyclist.
Because of focusing issues I previously mentioned, I usually shoot infrared photographs as close to f/16 as I can, which means slower shutter speeds and that's where the optical image stabilization in the Lumix 14-45mm f/3.5-5.6 lens makes a difference. I recently acquired this lens to replace the 14-42mm kit lens that came with the G5 but before I sell it, I plan to write another "Does 3mm Make a Difference" post comparing the two lenses. Look for it soon.
It's true and I've said it here that you can shoot infrared any time of the year and I have seen IR images made during the winter when deciduous trees have shed their leaves but I always feel the results are not all that different from a well crafted black & white photograph. To prove or disprove this assertion, I plan on writing a post comparing leafless images shot with an IR converted camera and another camera set in Monochrome mode with the red filter applied internally. My guess is there won't be a big difference but it'll be here for you and me to decide.
Acknowledgements: Many thanks to my good friend, Cliff Lawson , one of the finest high school senior photographers in the country, for introducing me to the McCabe Meadows open space where I made this shot. I plan on coming back there next year to make more images but in the meantime look for some images from this shoot in the future, including one next Wednesday on how I process infrared images.

A special offer for this blog's readers: If you want to save a few bucks when converting your camera to infrared, use the coupon code "farace" when ordering a conversion from LifePixel.