From the Best of Mark Toal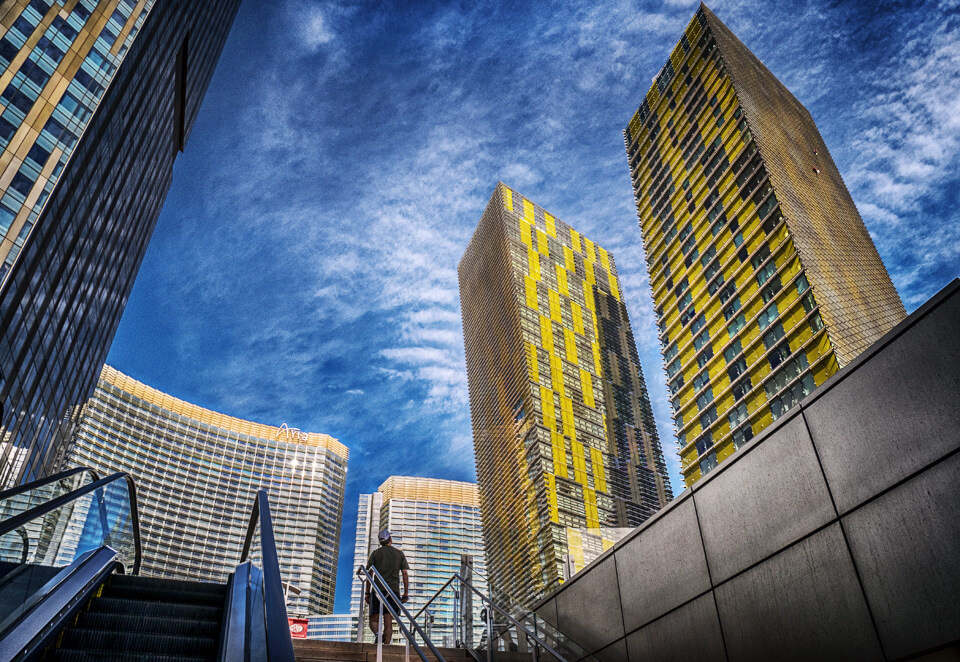 I think that the best time to take photos in Las Vegas is either very early in the morning as in this case or in the early evening. I started out before sunrise and came across this scene by the Aria and Cosmopolitan hotels about an hour after sunrise. I wanted to find a unique way to capture the window washers on the building on the right that the man at the top of the stairs was looking at.
I was carrying a Panasonic Lumix GM-1 with the G Vario 12-32mm f/3.5-5.6 ASPH lens. My favorite angle of view is from a 24mm equivalent lens so I had the lens set to 12mm at ISO 200 since it was fairly bright. The camera automatically choose f/7.1 at 1/400 second in Program mode. I like to walk around with my camera in Program mode so that I can quickly shoot and adjust settings for the next photo if I need too.
In Adobe Lightroom I added contrast, warmed the white balance, and slightly sharpened the RAW file. Then I brought the photo into Photoshop CS5 and used Nik HDR Efex Pro 2 on the single image. Finally I used the saturation brush in CS5 to bring out the yellow in the building windows.