Are you havin' any fun?

What y'gettin' out o' livin'?

What good is what you've got

If you're not havin' any fun? — Jack Yellen, Sammy Fain
Today's Post by Mildred Alpern
Fun is the partial name of the game when you set out using a mirrorless camera when panning cyclists. Be prepared for challenge and consternation, fun and frustration. Panning takes practice, lots of it.
Some hints:
First, stake out a spot parallel to the path of your subject with a detailed enough background to serve as a blurry, streaky foil.

Second, with your camera set in Shutter Priority (S) select a slow shutter speed, 1/30 – 1/60 sec, as example, and turn off image stabilization.

Third, press the shutter button halfway to autofocus, while tracking on your approaching subject. When the cyclist is directly in front of you, press the shutter button then follow them with a smooth and fluid movement similar to a golfer's or baseball batter's swing.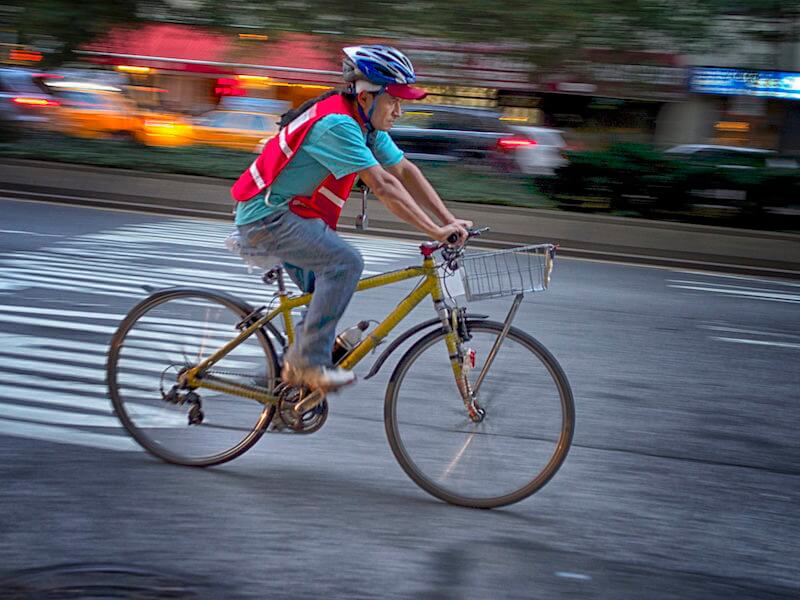 Hopeful result: A relatively sharp subject and a blurred background signifying speed and motion. As an added bonus, there may be the sartorial splendor of the cyclists' leisure and workaday outfits.
For the hatted cyclist (top), I used the Olympus E-M5 and Olympus M. Zuiko 12-50mm (24-100mm equivalent) lens at 37mm, with an exposure of 1/50 sec at f/16 and an ISO of 320. For the helmeted rider, the Olympus E-M5, the Panasonic Leica DG Summilux 25mm f/1.4 ASPH (50mm equivalent) lens with an exposure of 1/40 sec at f/22 and an ISO of 400.