Posted on Jan 22, 2016 in
Featured
Today's Post by Joe Farace
Portland, Mark's home, receives less annual rainfall than most cities on the East Coast, however rain often falls as a light drizzle for several consecutive days at a time, contributing to the high number (155) of days with measurable (≥0.01 inches) precipitation annually. In Denver, which is close to where Joe lives, the total precipitation 15.6 with 87 days of rain or snowfalls. May is usually the wettest month of the year in Denver, while January and February are the driest. So wadday do when it rains?
What else? Make pictures of other people taking pictures in the rain…like I did in Tokyo one day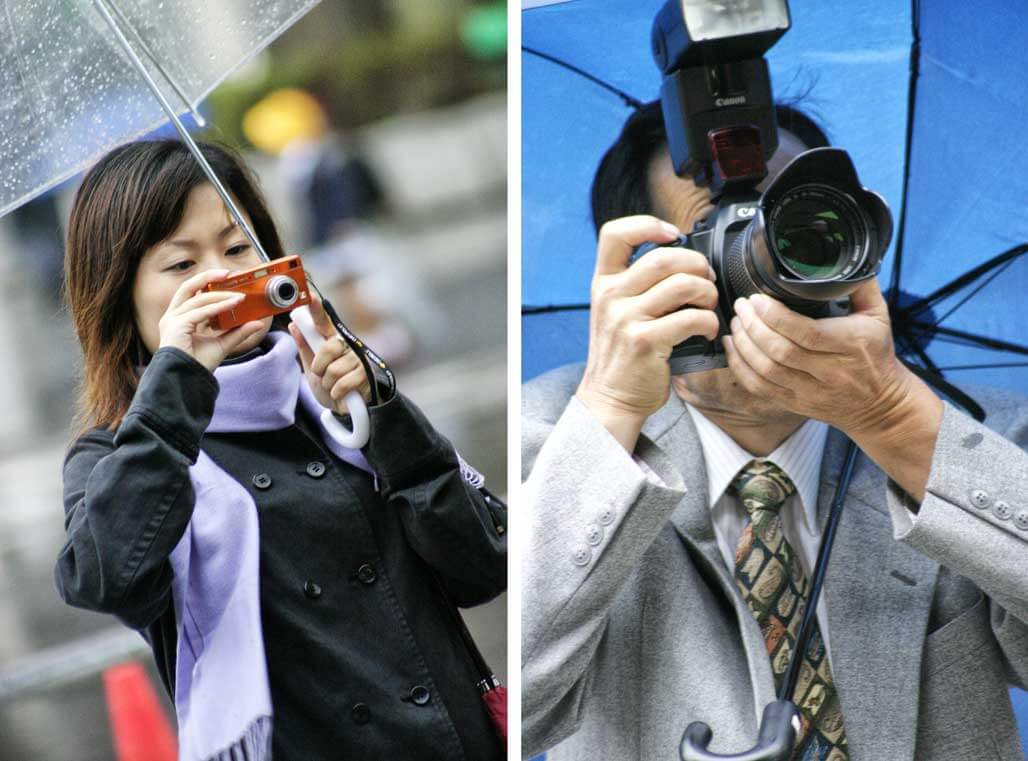 If it isn't already obvious, it's a good idea to pack a small umbrella—one that fits in your camera bag—whenever you travel. Travel tip: To keep my camera dry when I'm shooting in the rain, I always bring along a protective cover that hotels provide for free but for some reason are always labeled "shower cap."
If you want to get serious take a look at rain covers like Think Tank Photo's Hydrophobia 70-200 ($149.75) is a serious rain cover for SLRs with 70-200mm f/2.8 or similar lens. It's made from seam-sealed rip-stop fabric plus polyurethane film and nylon tricot with high-density shock cord, nylon webbing and polyurethane seam tape. Hydrophobia uses weather resistant zippers and has nickel-plated hardware.
For longer lenses, Hydrophobia 300-600 V2.0 ($169.75) protects an SLR wearing a 300mm f/2.8 up to a 600mm f/4 and lens hood. The Hydrophobia 300-600 V2.0 uses the same heavy duty construction and allows full camera operation while protecting it from rain, snow, even blowing sand.