"Daisy Daisy, Tell Me Your Answer True!

I'm half crazy over the love of you" …Harry Dacre
Today's Post by Mildred Alpern
Summertime English gardens evoke romance. In fact, in the final scene of the Nora Ephron directed movie, "You Got Mail" (1998) with Meg Ryan and Tom Hanks, both stars meet at the Upper West Side 91st St. Riverside Community Garden in New York City to reveal their e-mail identities and declare their love, while "Over the Rainbow" plays in the background. It is a lovely and romantic scene.
The garden is now blooming with larkspurs, primroses, tiger lilies, astilbes, and other gorgeous flowers as it did at the time of the film shooting. Such gardens are well-tended, tame settings with abundant flowers each in its special place, clustered in patterns of yellow and orange, purple and white. Fenced in, the gardens are "no touch, no pick" sites of open displays for admiring viewers and photographers.
Interestingly enough in an earlier scene of the movie, Tom Hanks visits a sick Meg Ryan, sniffling with a head cold. He brings her daisies and she says, "I love daisies…they're so friendly. Don't you think daisies are the friendliest flowers?"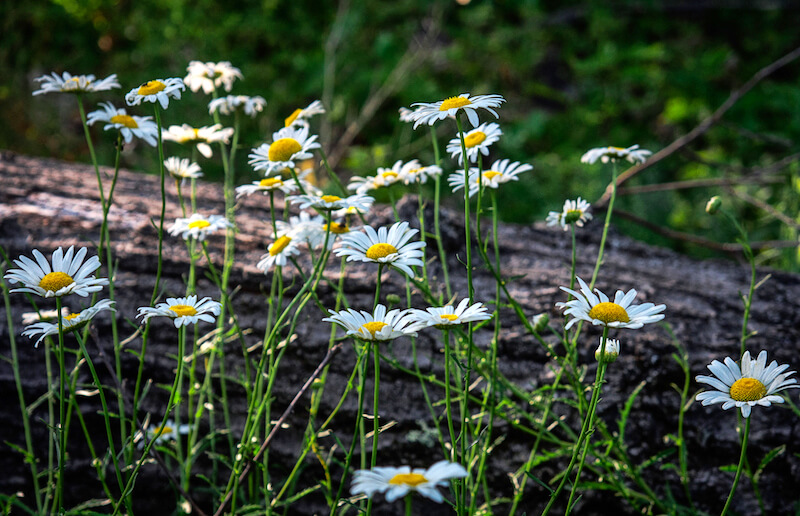 Yes. they are friendly and growing wild in the countryside. By downed logs, in sun and shade, they turn up their little yellow faces enclosed in white petal ruffs and swivel about in random play. They may be picked and gathered for a bouquet with no questions asked. Here is Nature's untended exhibit, packing an emotional punch of surprising beauty.
For wandering photographers, the hidden byways of summer woods and infrequently trodden paths have reclusive gems scattered about for the taking and the compositional shooting.
Riverside Garden was shot with the Fujifilm X-T1 and 35mm f/1.4 Fujinon XF R lens with an exposure of 1/9500 sec at f/1.4, ISO 400; The Daisies, with the Olympus E-M5 , an 12-40mm f/2.8 Olympus Zuiko Pro lens with an exposure of 1/640 sec at f/4, ISO 400, -2/3 EV.