Today's Post by Joe Farace
If you think your mirrorless camera is perfect as it came out of the box, you might want to skip today's post and wait until Mark's Monday post—hint: It's about an upcoming event where you can meet him and also have a great photo op.
I think my urge to customize my cameras comes from my love of cars. I just can't seem to leave my cars alone and each one has touches that make it my own. With cameras I like to start by changing the camera straps; the ones that come with the camera are woefully inadequate in the comfort and style departments. You can read my post on this topic here but there's more to come on this topic in the future.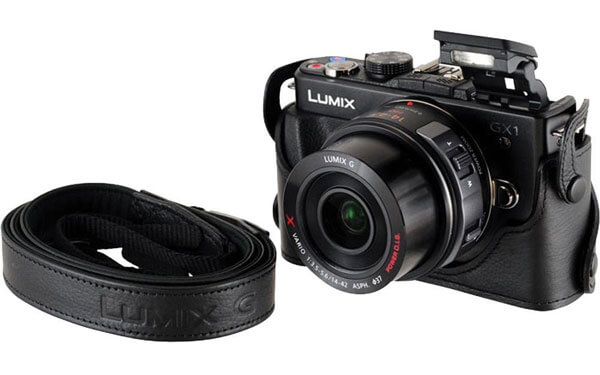 My GX1 (and GF3) have a leather camera case and strap made by Panasonic but never officially imported. They turn up occasionally on eBay (where I got mine) and also on Amazon. My GX1 also sports the Lumix Live View Finder (DMW-LVF1) that has seen better days but the price was right. I like to use it for low angle shots and treat it like a waist-level finder.
I like leather half-cases but haven't found one for my Lumix G6 that was converted to infrared-only by LifePixel. I found one for my Lumix G5 (also converted to IR) on eBay from Korea and it was beautifully made. My G5 also sports a "thumb rest" (another eBay Asian import) theoretically designed for the camera but is too short. I keep it on the camera because it looks cool and it's red. The strap is a no-name strap from my junk bin but is many times better than what came in the box.
I like to customize my Olympus cameras too. In addition to the Artisan & Artist ACAM-114R camera strap for the EM-5 Mark I, I added an inexpensive ($14.89) Newer grip from eBay. It allows full access for battery hatch cover and all cable interfaces and permits full angles for the tilting LCD screen. It's made from aluminum with a black anodized finish against corrosion and abrasion.
I didn't provide direct links for any of the eBay gear because it's subject to change but if you use the information I provided you can use the site's search function. If you still can't find it, drop me a note via Contact and I'll see if I can find it.