Today's Post by Joe Farace
If there's any camera accessory that's a necessity, not a luxury, it's the camera strap. I still remember watching my friend Marcel resting a Hasselblad on a thin railing over the Triberg Falls—the highest in Germany—with the camera strap flopped over the railing, not around his neck. It didn't fall in but the story points how important a camera strap is.
But what's the big deal, you say? The straps manufacturers pack with their cameras, including expensive ones, seem more like an afterthought and are thin, narrow, and obviously made to a price point. Then they have the camera manufacturer's name in big letters screaming "steal me." My friend, Ralph Nelson and I came up with a scheme to make personalized straps with our names on them. Ralph managed to pull it off, I wasn't happy with my results (but that's a story for another time.)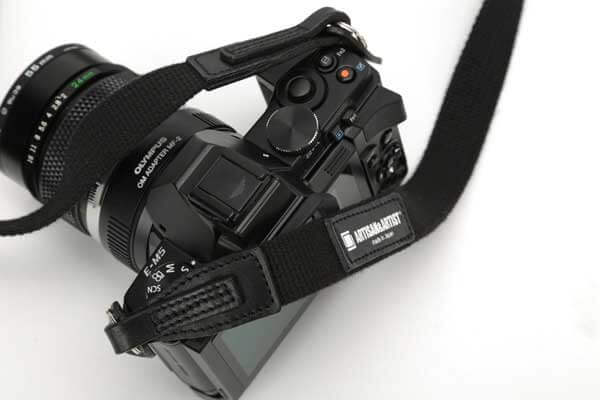 Lately I've been experimenting with two different straps from Artisan & Artist who make all kind of high quality, beautifully crafted products, including straps, for photographers.
The ACAM-114R ($84) that I attached to my Olympus EM-5 has a classic style that works with SLR and mirrorless cameras. Film cameras too. It measures 35 x 0.75 x 0.08 and is made from soft acrylic cloth that's thicker and much more comfortable than what came in the camera box. It has cowhide trim on the ends and on a non-slip shoulder pad. Connector is a ring type but there's a leather pad to avoid scratching the camera body. The strap is available in black or brown; I chose black to match the Olympus' body.
Unlike the 114R strap, the ACAM-100 ($79) is adjustable from 32.5 to 58.6-inches. It's made of acrylic and Italian leather and the 2mm thick strap is soft and comfortable to wear. It also uses ring type connectors with a leather pad—A&A calls'em "flags"—that prevents scratching the camera body. For my IR-converted (by LifePixel) Panasonic Lumix G6* I chose brown and the strap is a natural beige color that matchs the leather trim or you can choose black for contrast. I chose the all-brown look.
Artisan & Artist makes other straps in other materials including all-leather and silk. Check out their website for the full line.
Update: My Lumix G6 just came back from LifePixel and that's when I discovered that the the ACAM-100 strap works best with cameras Like Olympus' that have traditional style strap lugs not the wide strap slots that Panasonic uses. And yes, I'm sad about that but it's a perfect fit for my Olympus EM-10.