Today's Post by Jamie Zartman
I have always wanted to return to the Bisti/De-na-zin wilderness in northern New Mexico. The first time I was there, I didn't do enough research and got little more than blisters wondering around the wrong area.
This time, I invited a fellow photographer, Chris Mroz, and we checked out the location on Google Earth and from other online searches. The research paid off and we didn't waste time wondering around. The drive there took me over Red Mountain Pass, which is currently only open between noon and one o'clock and then again after five o'clock. They say it's the journey and not the destination but this time both provided many interesting photo opportunities.
A small grove of aspen trees was on fire, near the Grenadiers above the mining town of Silverton, where a recent mine water flood had turned the Animas River into a dirty yellow blight.
I took my Olympus EM5 Mark II, primarily using an Olympus 9-18mm lens and a Panasonic GH4 with a Lumix 25mm f/1.4 lens. This provided interchangeable backup and 4K video when needed. There were only a few cars when I arrived on Sunday and by the afternoon we literally had the entire Bisti wilderness to ourselves. We couldn't buy a cloud in the sky during the day, but at night a half moon and the milky way and several shooting stars made a beautiful canopy under which we shared a beer and discussed the day's photographs.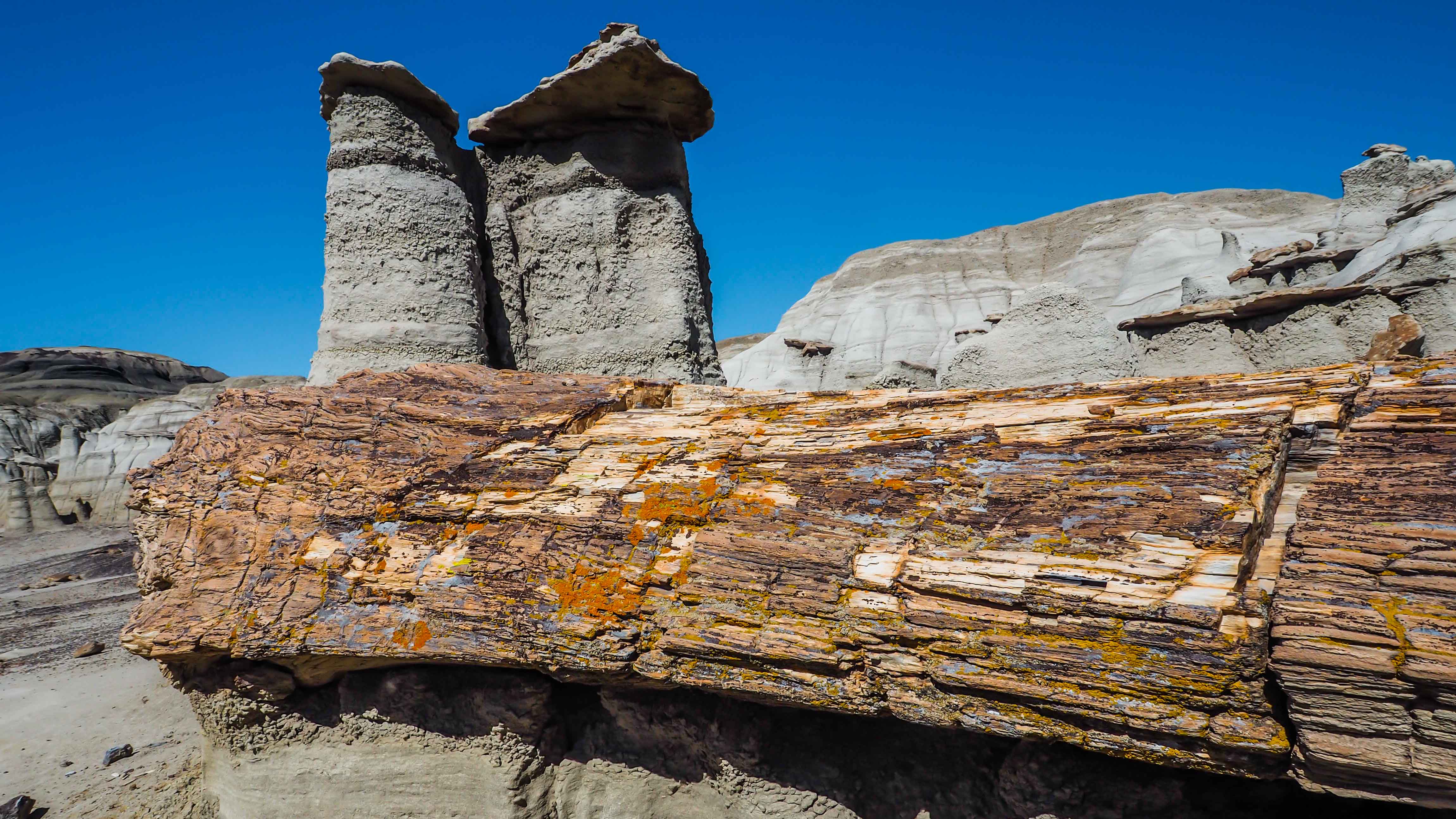 The petrified wood provide a stark contrast to the barren grays of the Bisti. The myriad of hoodoo formations the Bisti is known for had countless interesting shapes. The black and white conversion of one reminded me a little of the Sphinx in Egypt. One of the most popular locations is the "egg factory" where large clusters of rocks looking like a variety of the eggs from the movie Aliens. We did meet a couple from Holland, who had specifically come here to photograph the egg factory. Everywhere you turn in the Bisti is a discovery of shapes and forms.
Tips: My advice is to have plenty of water when hiking the Bisti and to take time to discover its many secrets. The sun rises due east of the parking lot and the setting sun provides a general direction back to the washboard road into the sandy wash that leads to most photographed areas approximately two miles in. You do not want to be there if it rains. There are zero facilities, no water and no vehicles of any kind in the Bisti, only a beautiful and unique area that is seldom explored.