Posted on Oct 23, 2015 in
Featured
,
Monochrome
Today's Post by Mark Toal with Joe Farace

I've had several questions from this blog's readers about how I process my black and white images. I wrote a post for Joe's Blog—Saving the World, One Pixel at a Time—about how to set your Micro Four-thirds camera to black and white. Today I want to share the techniques I use to process the images.
You can either start the process with either a color or black and white JPEG file or a color RAW file. When I know that I"ll be processing the image into black and white I set my camera to monochrome mode so I can see something close to the final result on the LCD screen or electronic viewfinder. (Tip: Joe likes to shoot in RAW+JPEG, to preview the JPEG but process the RAW file.)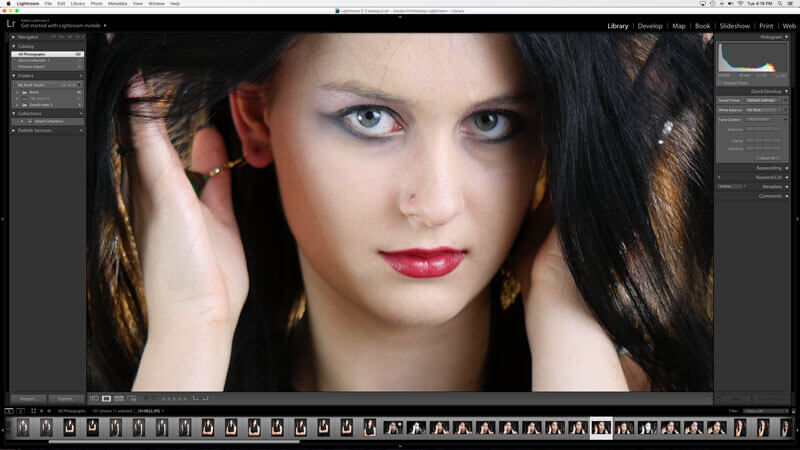 I use Adobe Lightroom for importing and cataloging my images. If you're serious about photography and don't already have Lightroom I would highly recommend it. At approximately $150 it does most everything that you need in an image processor. Keep in mind that I don't like to spend much time processing my photos. If you search online you'll find other great ways to accomplish this and you should choose what feels best for you.
Import your images into Lightroom and choose the file that you want to work on.

For 90% of my images I adjust exposure, bring the highlights down a little, bring shadows up a little, add or subtract a small amount of clarity and then set sharpening to 50. For this image I reduced the clarity adjustment to soften the image.

If you want a warmer tone, move the temperature slider slightly to the yellow side of the scale.

I like to adjust the post-crop vignetting to slightly darken the edges and bring attention to the subject.

As a final touch I do any cropping or straightening needed and I'm done. You can see the exact adjustments I made in the before and after photos.