Posted on Nov 6, 2014 in
Uncategorized
Today's Post by Joe Farace
If you don't have a backup strategy you should. The Internet with rift with stories of photographers who didn't and suffered the consequences; don't be that guy.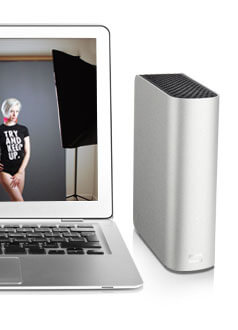 If you're using a Mac OS computer the company provides free Time Machine that seamlessly backups up your hard drive(s) when you want. All you need is an external hard drive like the 3TB Western Digital My Book Studio, that I just bought, and plug it in, The OS asks if you want to designate this as a Time Machine drive, click yes and "Bob's Your Uncle" All you need to do (if you want) is set the preferences but the software just does it thing
I'm not an expert at Windows software but there appears to be many hardware/software solutions available including Western Digital's WD SmartWare Pro software for local and cloud backup and Acronis True Image WD Edition software that's included with their Windows My Book drives. The secret is to, like Nike says, just do it.
Here's my backup strategy and its being presented not as the only way to do backup but what I do; you should do whatever works best for your workflow.
After a shoot, I copy all of the image files to my hard drive. Then I sort the images into folders using Adobe Bridge. At that point I make a DVD-R of the images and afterwards click "Back Up Now" on my Mac Pro desktop. At this point there are now exists three distinct copies of the images. When I finish a book, I copy all text and image files onto a Blu-Ray disc using an external Blu-Ray drive I use to large number of back up files when they won't fir onto a single DVD.
It's that easy and you may have a better way and if that's the case I can only say "Good on you" but for the rest of you, start making backups.